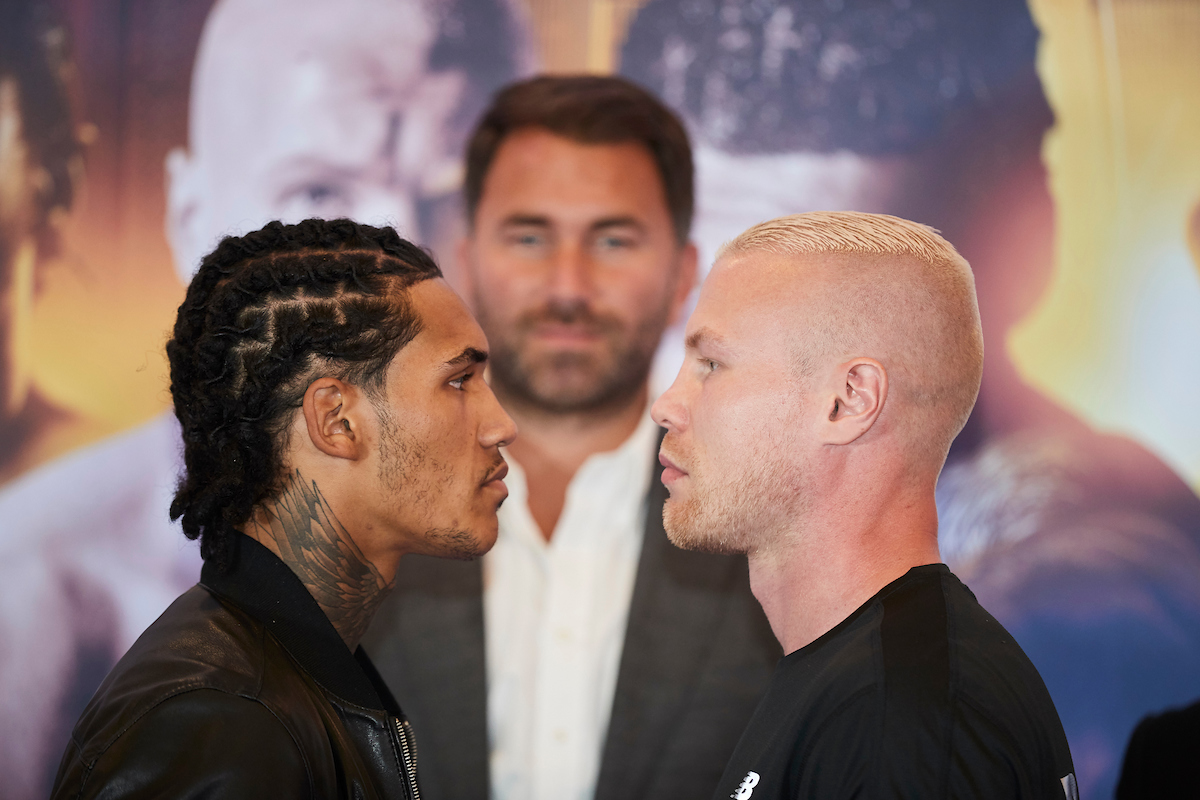 News
Benn Vs. Koivula + Undercard Press Conference Quotes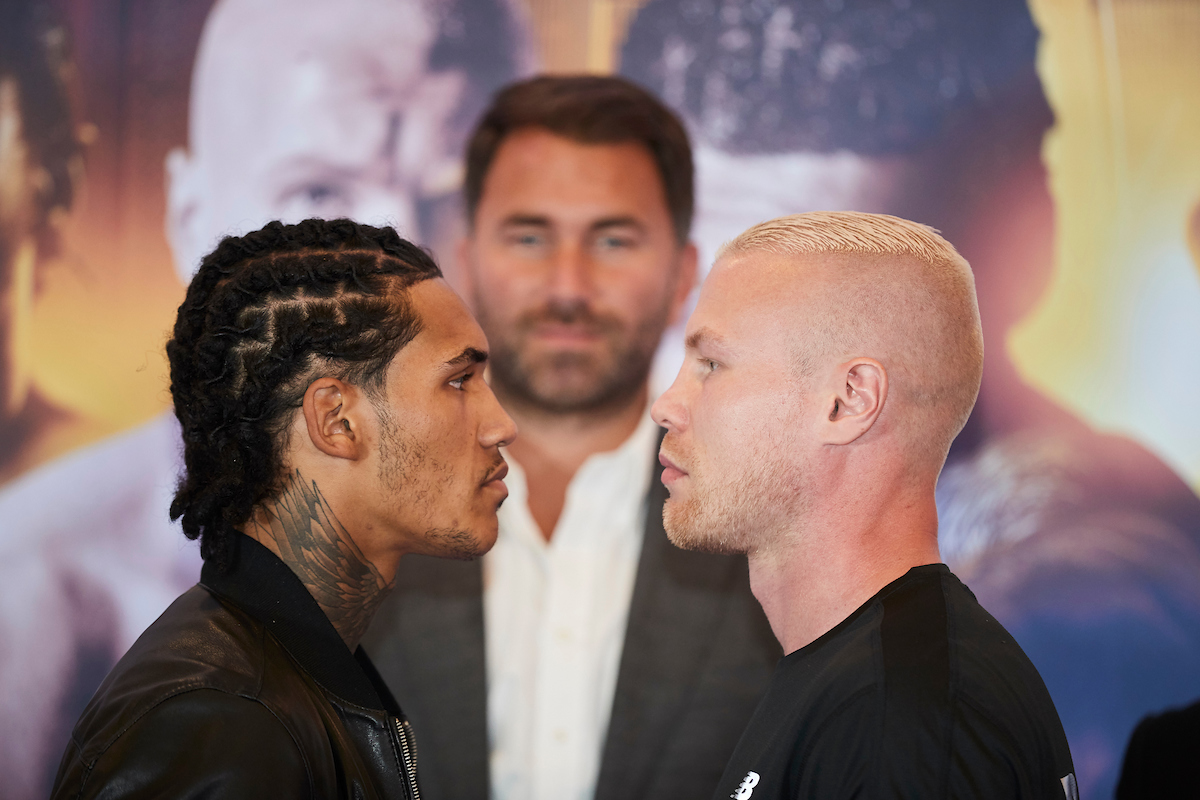 Eddie Hearn:
"Good afternoon everyone and welcome to the Courthouse Hotel in Shoreditch ahead of a very important JD NXTGEN. We've been all over the world but nothing quite cleanses the soul like a sold out York Hall on a Friday night. So many big important fights, British titles on the line, some of the best young prospects in the sport of boxing, topped off by a great production by Sky Sports in the UK, streamed live across America on DAZN, and then all topped off by a salt beef bagel with mustard at the end. It doesn't get any better than Friday night at York Hall. We're going to hear from all of the guys up here on the top and bottom tables. Before we do, I'm going to pass over to Adam Smith, Head of Boxing for Sky Sports."
Adam Smith, Head of Sky Sports Boxing:
"Thanks Eddie I echo those words. It's fantastic being in Madison Square Garden and those wonderful places over in America but there is nothing like the York Hall Bethnal Green. I think all those here today and everyone coming who will pack it out on Friday night, agree with that. There's no bad seat in the place, the atmosphere is always electric, it's a special venue. So many fighters have come through, so many great fighters, I remember watching Johnny Tapia there. So many wonderful stories and fights have come out of that wonderful venue. It's the spit and sawdust of what we do. It's more than that, it's the home of boxing. I can't wait to be back, salt beef bagels and the greasy cafe over the road, all of that stuff, it's fantastic and we're going to have a great night on Friday.
"It's good to have boxing back on our time, 7 until 11o'clock on a Friday is perfect for us and what a display and array of talent in front of us. Fighters that have go the chance to appear live, to appear on a big platform and we're going to do everything we can over the next 48 hours to really push these fighters on our digital and social platforms. It's a big night for Conor Benn headlining for the first time. We all know the story, now we need to see him step up in level and see whether he can deal with that. There's some real experienced fighters and some great matches on the card as well. Top to bottom it's going to be an electric night. Enjoy."
Conor Benn – Ilford, England – 14-0, 9 KOs – defending his WBA Continental Welterweight title against Jussi Koivula:
"As far as my opponent, this is a step-up, I'm not really concerned about what he offers, not at all. It doesn't faze me what he brings. Yeah he's got experience, but I'm quicker, I'm younger, I can punch harder.
"Everyone has got a plan until they get punched in the face as they say. He's been stopped twice, I believe, he's lost six fights, but he's been in with some quality opposition, but I believe I'll be too much for him.
"I really want to bring the old Conor Benn back, I really do. Often after my fights I go 'I don't know what shot I caught him with? Well I want the same effect. I really do want to go in there and make a statement with this fight. It's going to be a good year, each fight I've got better.
"Yeah I had a hard fight with that Peynaud, he's just beat someone who's had 16 fights and lost one. He's just beat him. Who would have thought?
"That's a reality check for me and thank you he hasn't cost me my O. I went back to the drawing board and learned, and this time I plan on displaying something else. I don't know who is going to show up. The old Conor Benn or the new one.
"I would have liked to have brought a lot more explosiveness into my last fight. Yeah it's about staying calm, it's about ring experience, it's about mixing it up.
"I'm glad for my last fight, I could show I could box for the full eight and take my time. Now I want to incorporate more of the old Conor Benn. Still thinking, using my boxing brain, but still having that same attitude. I don't want to lose that Benn attitude."
Jussi Koivula – Tampere, Finland – 24-6-1, 9 KOs – challengingly Conor Benn for his WBA Continental Welterweight title:
"Thank you. Yes, I am very excited to be here, especially in a place where many great champions have fought before. It's one of the great atmospheres in boxing so I'm very happy to be here. I expect it to be a good fight and people will be entertained. I think that my timing is better for this fight and I can win this fight because of my experience. It should be a good fight."
Ted Cheeseman – Bermondsey, England – 15-1, 9 KOs – defending his British Super-Welterweight title against Kieron Conway:
"This is a very important fight for me, I'm not delusional, if I lose this then it's finished for me really in boxing. There's no point in fighting at a level below this. If I go below this then it's over, you have to build up again. This is a build-up fight.
"I made my own mistakes and wasn't successful in the last fight. Everyone forgets though, that my last opponent was No. 2 in the world, I stayed in there for 12 rounds, and he couldn't hurt me.
"I'm in the best shape I've ever been in, I have tunnel vision on boxing. I'm going in there to rip Conway's head off, I'm not bad-mouthing him but that's my plan. Sooner or later he gets stopped, the confidence is back.
"The fight with Scott Fitzgerald is signed, sealed and delivered if I win on Friday night!"
Kieron Conway – Northampton, England – 12-1, 3 KOs – challenging Ted Cheeseman for his British Super-Welterweight title:
"It's a huge opportunity for me and I'm grateful for it. The odds are massively against me and I'm unsure why. I'm here to win and make history for my town and myself, that's all I'm here for. I see it as a very good fight. 50-50? I'm not so sure. I think that I should be the favourite. I think it's more 60-40 in my favour. I don't see it 50-50 at all but it's a great fight and I'm happy to be a part of it. I'm proud to be a part of it. I just know that I'm very adaptable and I don't see that in him. I don't want to badmouth him. I'm not going to sit here and slate him or anything. I just believe in myself and I'm here to do the business."
Craig Richards – Crystal Palace, England – 14-1, 8 KOs – defending his WBA Continental Light-Heavyweight title against Andre Sterling:
"I believe that you'll see an even better performance from me this time. Every time I step in the gym, every week and every day I'm learning and progressing. Obviously the fight with Jake Ball ended a lot earlier than people probably expected. I didn't get to demonstrate what I had been working on. Since then I've come on loads. This is the perfect opportunity, a guy that's hungry and comes to win, is unbeaten. It will probably give me a chance to go and display some of the stuff that I've been working on and show everyone how good I really am.
"I think he's a good fighter but I just believe that I'm at the level where I can push on from domestic level and I think this will be the fight to show that. I believe that I'm going to go out and do the job and execute what I need to do on June 21st. 100% I see a stoppage. At 168 I was flat, I was losing my punch power and my energy was down. Even when I was sparring I wasn't as good, you can see the difference in the gym and the results of my sparring. Nobody has gone past 3 rounds since I went back to the drawing board after stepping up to face Frank Buglioni on short notice. My punch power is a lot different now."
Andre Sterling – New Cross, England – 10-0, 4 KOs – challenging Craig Richards for his WBA Continental Light-Heavyweight title:
"I'm very grateful for being given a chance on this platform. I'm going to do what I've got to do on Friday 21st June. I'm going to deal with Craig Richards. We boxed as amateurs. I believe that I can win every fight that I'm in. Craig Richards is going to come to win and he's going to come to fight but I don't think he has enough to deal with me. I believe in my ability and I've got a lot of skills that I want to show on June 21st.
On his heated confrontation with Craig Richards last week:
"Yeah it went viral. We love this sports. This is why we love this sport. You've got two passionate fighters that really love what they do and are very dedicated. When we saw each-other the emotions just overwhelmed and we just stood there. He wants to win and I want to win so that's what it is."
Duane Sinclair – Thorton Heath, England – 10-0, 4 KOs – fighting Anthony Fox in a Light-Heavyweight contest:
"Thank you for having me on. I've done thousands of rounds with Joshua Buatsi, we grew up in the sport together. Make no mistake about it, believe you me, I'm no sparring partner. I've just got to go in there and put on a show and show everyone what I'm all about. Like you say I'm undefeated at the moment, I've got a good record. I just need to start pressing on and fighting the boys that I can start proving myself against. I'm ready to put on a show."
Shannon Courtenay – Watford, England – 2-0 – fighting Valerija Sepetovska in a six round Super-Bantamweight contest:
"I boxed there (York Hall) as an amateur, it's where I won my first belt as an amateur. It's a good omen for me. I've done the Copper Box, I've done The O2 and now I'm doing York Hall. I think the only one left after this is Wembley. I've had two quite negative opponents that have been quite awkward so far so I'm hoping that I actually have someone who actually comes to want to fight and to let me showcase what I can do. We've been working really hard in the gym and this is definitely going to be the best version of me, I've never felt stronger and I'm expecting a big explosive performance come Friday night."
Otha Jones III – Ohio, USA – 1-0 – fighting Michael Horabin in a six round Super-Featherweight contest:
"The plan journey over here was six hours and I was a little bit tired when I arrived but I'm good now. I'm very excited to fight as a pro for the first time in the UK. A lot of fans from the UK show me love on Instagram, this is my first time here and I can't wait to put on a show and show everyone what I'm really made of. I just want to show everyone that I'm the real deal, and I'm here to stay."
Charles Frankham – Crowthorne, England – 1-0 – fighting Ilgvars Krauklis in a four round Super-Featherweight contest:
"I'm going to have a lot of support on Friday. This is the first time I've ever fought at York Hall. Me and Otha Jones shared the ring as amateurs before and it's a great bill to be sharing together. My first opponent was a tricky customer, obviously I should have bought a pair of knee pads! He got me some good rounds in and hopefully I'll be able to put a good show on on Friday."
Reece Bellotti – Watford, England – 13-2, 11 KOs – fighting Josue Bendana in a six round Featherweight contest:
"It's the fight game. You can get beat at any moment. You've got to be on your game at all times. Obviously I've learnt from being beat twice now and I'm looking to come back and gain more experience and then challenge those boys that are pushing on as well. Ryan Walsh is a quality fighter and I felt like I was competitive in there. Looking back on it I probably could have done a lot more. I feel like I could do a lot more and I believe I'm at that level and over time I'll prove it again."