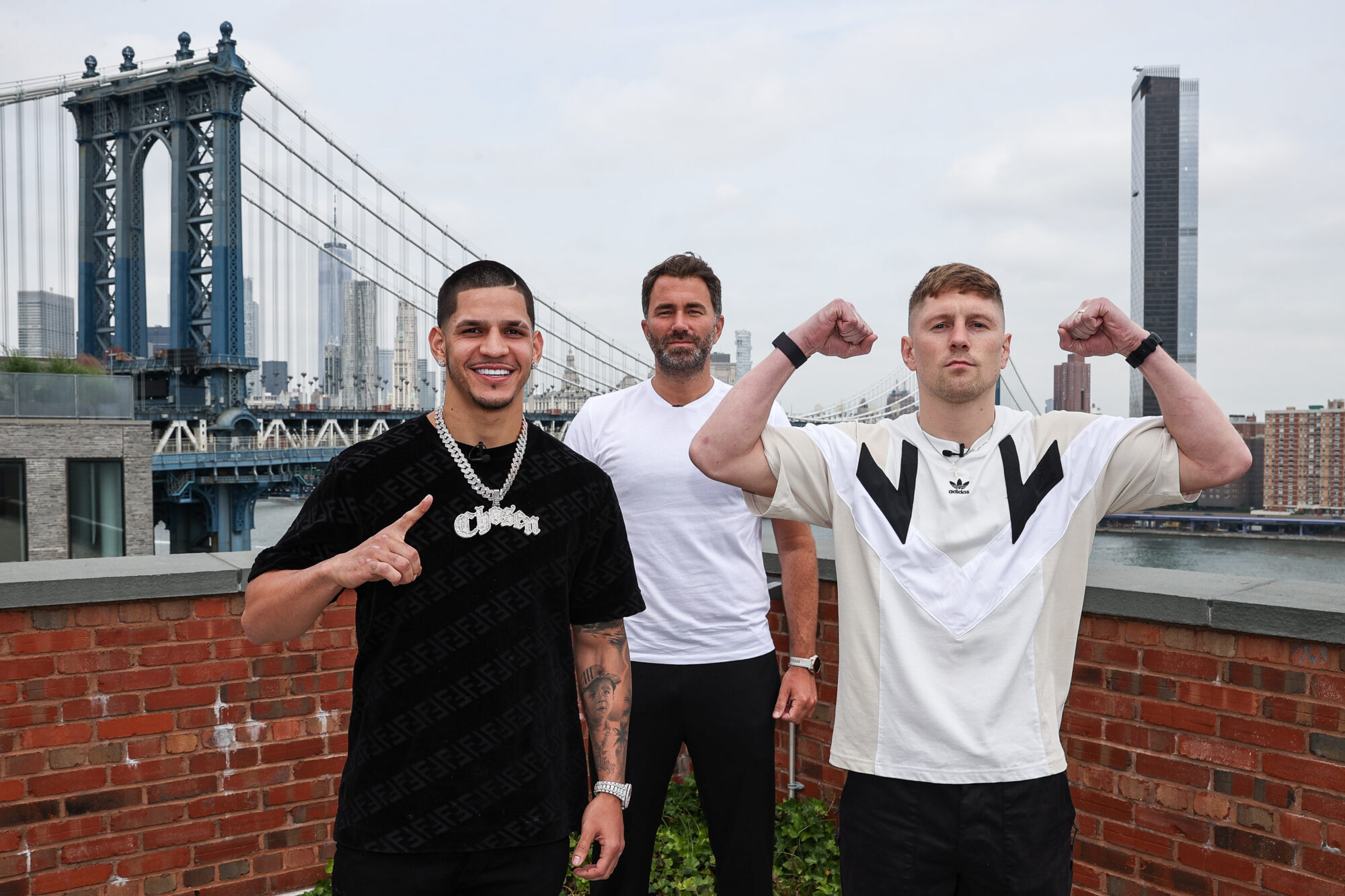 News
Berlanga: Eddie Hearn has a vision for his fighters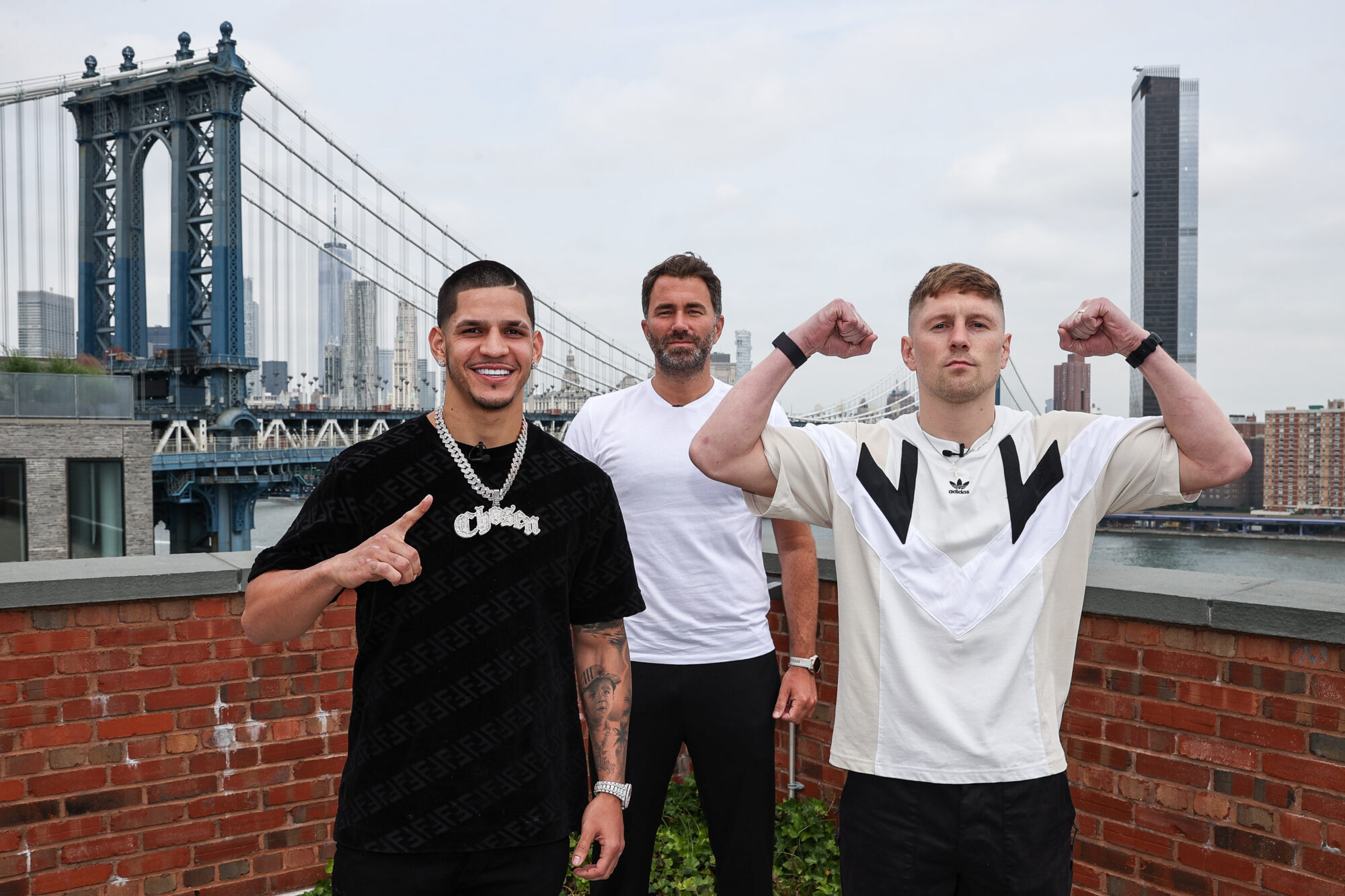 Unbeaten Super-Middleweight star excited to start his journey with Matchroom on Saturday
Edgar Berlanga is ready to start a new chapter in his career with Eddie Hearn and Matchroom – starting with his clash with Jason Quigley at The Theater at Madison Square Garden in New York on Saturday night, live worldwide on DAZN.
TICKETS ARE ON SALE NOW AT TICKETMASTER.COM
Berlanga (20-0 16 KOs) tore through his first 16 fights in sensational fashion, ending each one inside the distance in an astonishing from his debut in June 2016 to December 2020.
The 26 year old Brooklyn star has been a huge hit in the Big Apple, packing the Hulu Theater at Madison Square Garden with his loyal hometown and Puerto Rican support in his most recent battles with Steve Rolls and Alexis Angulo.
'The Chosen One' sits at #4 with the WBO and IBF and at #6 with the WBA, and fights for the first time under the Matchroom banner after signing a long-term multi-fight deal with Eddie Hearn in February – and Berlanga feels right at home with his new promoter and is ready to turn on the style on Saturday night.
"I'm excited, the build-up has been great, camp has gone well, I'm in my backyard and I'm main event at the garden – it's big," said Berlanga.
"Eddie has a vision for his fighters. A lot of promoters don't have a good relationship with their fighters; Eddie and I have been working for five months and we have chemistry already with the whole team, Eddie, Frank Smith, Kevin Rooney – the vibe is different, the energy is good, they want to see me win and go to the top.
"It was a crazy time when the news got out that I was a free agent. I got a call from Floyd Mayweather, Oscar flew in from LA, PBC were in touch and so, of course, was Eddie. I was anxious, excited; I had a lot of options, but Matchroom came through with the best deal and I'm excited to get started.
"Jason is a great fighter. He thinks I'm overlooking him, maybe I am in the sense that I believe I am on a different level to him. The fights that I want to make happen, I must perform this weekend, I need to look spectacular. So, I am not overlooking him, far from it, but I want to prove that I am better than him.
"I've looked him in the eyes, we'll do it again on Thursday, and on Friday, and then fight night, it's on, time to take off the shackles and unleash the beast. There's going to be more tension as the week goes on – he's in my hometown, he's going to be in the trenches on Saturday.
"I needed the rounds. I am back with Mark Farrait, my coach that created the monster, and that's amazing. We were separated for three years but now he's back when the timing is important, and I think you're going to see something explosive.
"I have a lot to prove to myself. I have a chip on my shoulder. If the knockout comes that's great, but I have to go in and handle my business. Look sharp, smart, do my thing."
Berlanga's clash with Quigley is part of a stacked night of action in the Big Apple, with New York fan favorites featuring heavily.
Brooklyn Heavyweight Adam Kownacki (20-3 15 KOs) returns after almost a year out of the ring and is aiming to return to winning ways over ten rounds against Virginia's Joe Cusumano (21-4 19 KOs).
Staten Island's Reshat Mati (13-0 7 KOs) remains unbeaten in the paid ranks, and the talented Super-Lightweight fights over ten rounds for the second time against West Virginia's Dakota Linger (13-5-3 9 KOs).
The DAZN main broadcast commences at 8pm ET with Puerto Rican sensation Yankiel Rivera (3-0 2 KOs) stepping through the ropes for the fourth time and the second over eight rounds, taking on unbeaten Californian Christian Robles (8-0 3 KOs).
The Before the Bell action is headlined by New Jersey's Light-Heavyweight starlet Khalil Coe (5-0-1 3 KOs) as he meets unbeaten Canadian Buneet Bisla (7-0 3 KOs) over eight rounds. Two more unbeaten New Yorkers feature in six round bouts on Before the Bell, as Welterweight Pablo Valdez (6-0 5 KOs) faces Demian Daniel Fernandez (14-4 5 KOs) and Ofacio Falcon (9-0 6 KOs) kicks the night off against Pedro Vicente (7-5-1 2 KOs) in a Super-Featherweight contest.