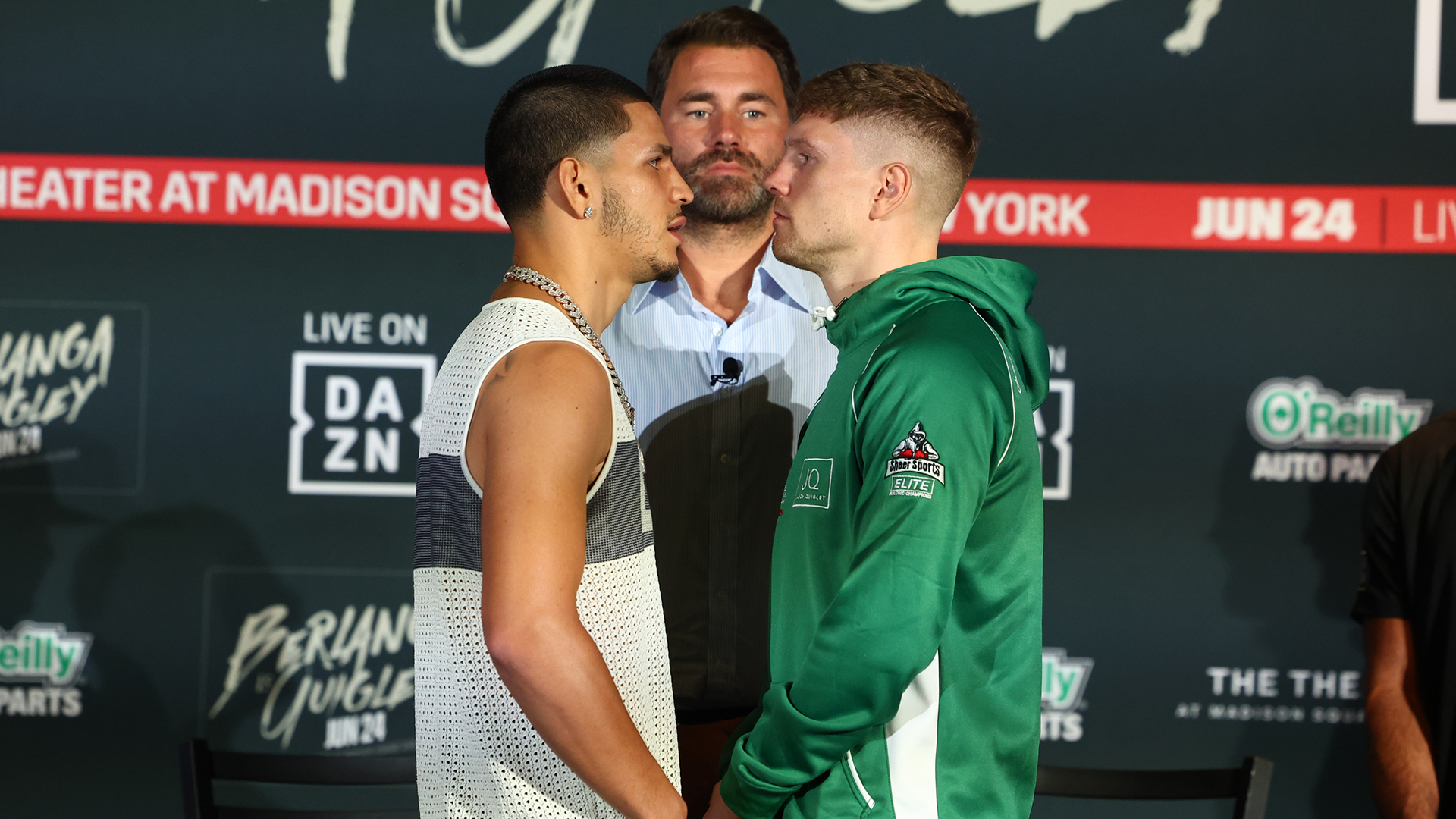 News
Berlanga vs. Quigley – Final Press Conference Quotes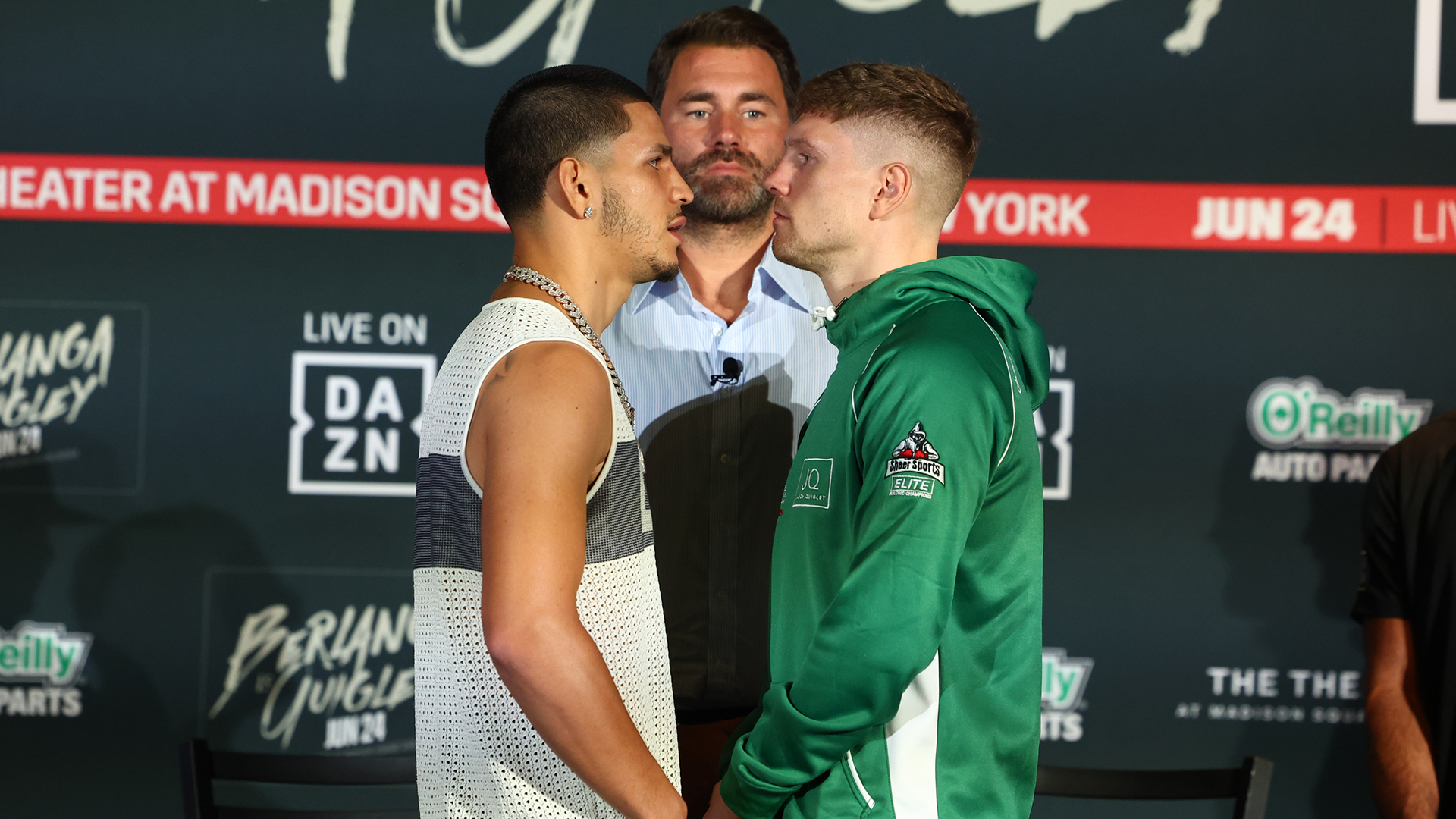 Unbeaten Super-Middleweight star meets Irishman in New York on Saturday
Edgar Berlanga (20-0 16 KOs) fights Jason Quigley (20-2 14 KOs): It's a big night on Saturday. It's been a year layoff, we're home with a new promoter, and I am ready to perform. I don't put too much pressure on myself, other people are trying to say Jason is an easy fight, but I know it's a difficult fight, we've prepared well for that, he's not going to stand in the middle of the ring, we've been prepping well for him, I have a lot of respect for him and his team, but we're going to handle business.
TICKETS ARE ON SALE NOW AT TICKETMASTER.COM
I want to thank all my fans for buying tickets, another sold out show, it's a blessing. I feel great, I'm ready to go. For me there are bigger fish out there, the GGGs, the Charlo's, these are the guys I want to get in the ring with, I feel I am ready and seasoned to get in with them, but I must beat the shit out of Jason Quigley this weekend, that's what it is.
Jason Quigley: I back myself all the way. The training that I have done, the stuff that we've been through, come through, progressed from; I know I am the better man. Edgar is a great fighter, I've come here to win, and that's going to make it a great fight. But I am the man, I'm here to progress my career and my life.
I've been the underdog my whole career and even as an amateur, we've been going into the Lion's Den since day one. I've handled hostile environments, it's nothing to concern me and I have so much belief in myself, my team, the work we have done, I know what can come from winning this fight and that's what excites me. The only think in my head is Edgar, not any other fighter, it's just him and Saturday night.
Adam Kownacki (20-3 15 KOs) fights Joe Cusumano (21-4 19 KOs): it's must-win, but for me my two options are win averagely or win amazingly. I want to look amazing, I've had a great camp with Sugar Hill, so we're ready. I'm in great shape, I want to look brilliant, get the win and get another fight quickly.
I am focused on Saturday, showing the world that in my previous three fights I wasn't as focused as I should have been, but now you will see the old-new Adam Kownacki. Thank you to Joe for taking the fight, my brother is still selling tickets right now, it's going to be red and white and all the other colors too.
Joe Cusumano: it's a dream come true. It's been a tough camp, but I am excited for the opportunity, and I am ready to go. Adam is a great fighter, we're Heavyweights, we're big punchers, and we're going to show that.
Reshat Mati (13-0 7 KOs) fights Dakota Linger (13-5-3 9 KOs): Thank you to Dakota for taking the fight, I'm at the stage of my career where I don't care who is in front of me, I want big fights and I want to get the job done. Mexico City wasn't a fun time for me, getting food poisoning and trying to get through the fight. We got the job done and showed that I can get through fights even when I am feeling sick.
This is going to be a good fight, ten good rounds and may the best man win. The Albanian fans are going to be all over MSG, afterwards we're going to have a party, and, in the arena, I'll put on a great show for the fans, not just my fans but everyone coming and watching on DAZN.
Dakota Linger: I'm excited to be here and it's an honor again for the third time in a row. I had three weeks' notice so we've done the best way could, I was already in shape and I'm ready. I'm hoping to make it a good fight for everyone.
Yankiel Rivera (3-0 2 KOs) fights Christian Robles (8-0 3 KOs): I am very happy for the opportunity to come back and fight at MSG again. Last time was great and I'm more than prepared to be back. There are big names in the division, we're ready for Saturday and getting the win, and then we will see what is next from there.
Christian Robles: I want to thank everyone that's brought me here to this point, I'm super excited and ready to make a statement. I've sparred plenty of World champions and top amateurs at the Wild Card gym, I've been in with them all and I am ready for whatever comes next for me. I'm excited to show love to all my Mexican people, we're going to make sure we represent, let's go.
Khalil Coe (5-0-1 3 KOs) fights Buneet Bisla (7-0 3 KOs): I'm excited to be on this card with my neighbors from New York. I don't care who he has trained with or sparred with; he ain't them. On Saturday it's going to be another step forward for me. We've made small adjustments, just like you do in a fight, with camp and the weight management, and now we have the recipe. My opponents rise to the occasion, and they come to fight, but I am coming to fight too. We're going to give the people what they want to see.
Buneet Bisla – I've been ready for this sort of fight for a long time. I've been training with the top dogs like David Benavidez, Diego Pacheco, and we're ready to showcase what we have been working on. This is big.
Pablo Valdez (6-0 5 KOs) fights Demian Fernandez (14-4 5 KOs): I am so excited to be fighting on the card of my best friend, Edgar Berlanga. Last week my girl was giving birth and our babies' heart stopped twice, so I was going from the gym to the hospital. Thank God, the baby is OK and we're all good, but it was a mentally rough time for me, but I am a warrior and I dedicate this fight to my son.
Oficio Falcon (9-0 6 KOs) fights Pedro Vicente (7-5-1 2 KOs): I'm blessed to have this opportunity and I'm ready. What's a better fight card to be on than an Edgar Berlanga card as a Puerto Rican fighter? The crowd is going to be amazing, and I am ready to show out, I'm super excited.