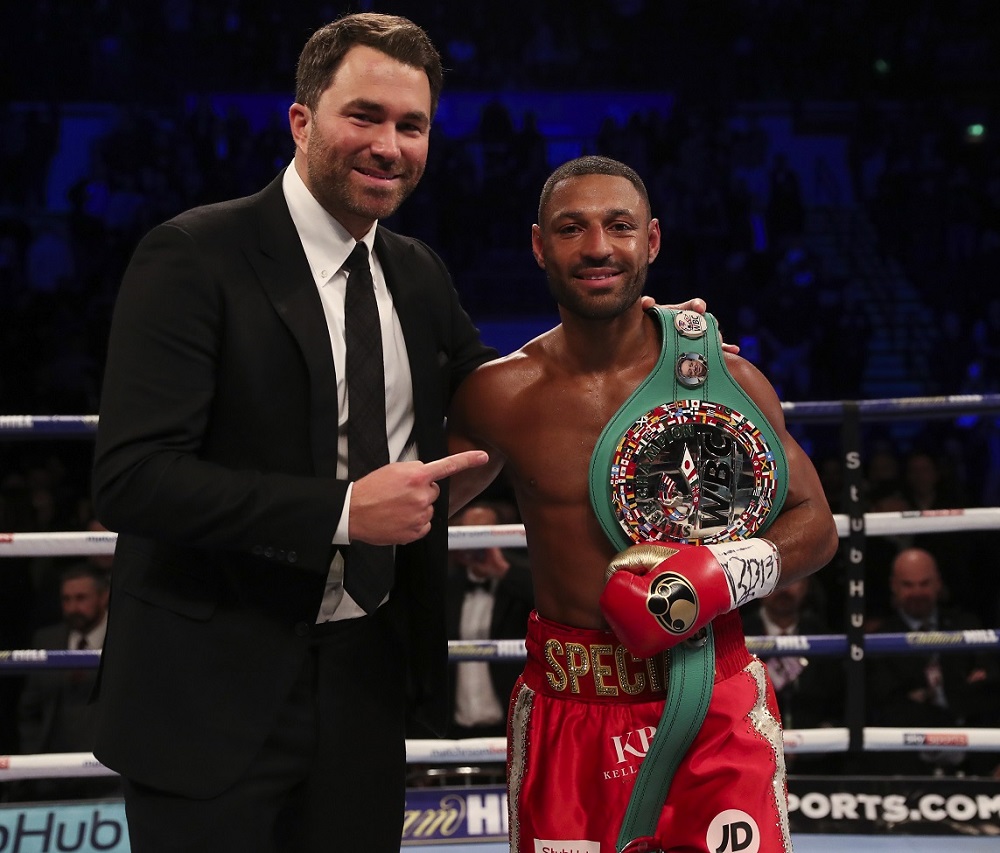 News
Brook: I've Put The Super-welter Champs On Notice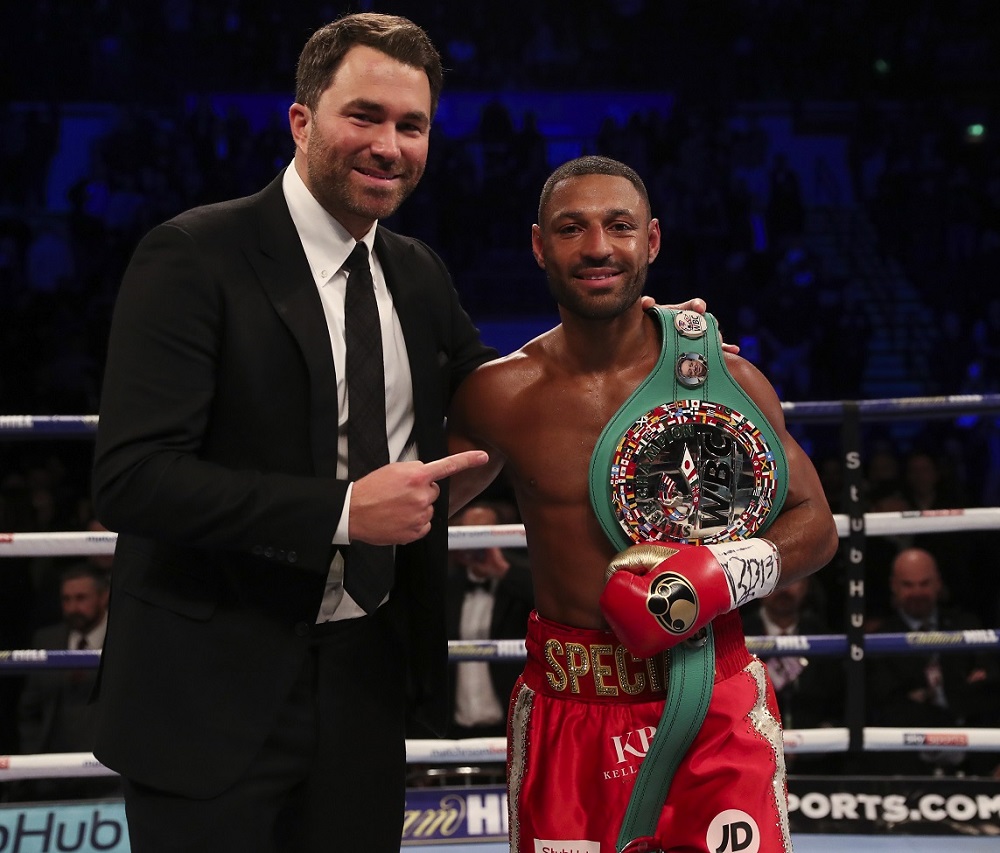 Brook: I've put the Super-Welter champs on notice
Sheffield star destroys Rabchenko on 154lbs debut
Kell Brook says he's put the World champions at Super-Welterweight on notice after destroying Sergey Rabchenko inside two rounds to land the WBC Silver strap on his debut at 154lbs at the FlyDSA Arena in Sheffield on Saturday night.
Brook admitted to nerves ahead of his return to the ring for the first time since losing his IBF World Welterweight title to Errol Spence Jr at Bramall Lane in May, but 'The Special One' soon got into his groove and stung WBC number five Rabchenko more than once in the opening session.
Sheffield star Brook wasted no time in ending proceedings in the second round where a stiff right hand was swiftly followed by a thudding right upper cut that shook Rabchenko and another jolting right floored the Belarussian who beat the count but was in no position to continue – leading Brook to roar to the crowd "I'm back."
Social Media was abuzz after Brook slayed the Belarussian and WBC ruler Jermell Charlo has welcomed a possible clash with Brook while Spence tweeted to say he'd welcome a rematch at 154lbs if Brook can land a World title – leaving no doubt that the Super-Welterweight division has another top dog in the mix.
"The desire is there and you could see in my performance that I'm back and I'm putting the guys at the top level on notice," said Brook.
"I'd fight anyone, I've got nothing to prove in that respect as I've boxed GGG, Errol Spence Jr and won my IBF title in America. I'd like another test at 154lbs to settle into the weight and get another great performance, and then any belt out there I want it.
"It's my goal to become a two-weight World champion and I know I can do it. I'm accurate and I can land on anyone's chin – there's levels in boxing but if I hit them World champions with those shots, I will find their chins.
"I expected a tough night's work and 12 hard rounds, and I was ready to do that. But once I got my range with the timing working, it was game over. You don't get paid for overtime – rounds in the bank would be nice, but I know I could've gone on all night as I felt great in there.
"The longer the fight would have gone on the better I would have looked too, I was getting into my groove and my mojo is back. I was living next to the gym for the fight away from my family so I was training, eating and resting, nothing else.
"Walking back out in front of my fans in Sheffield, I was nervous tonight but once I walked out there and heard the fans, I settled right down. I'll be straight back into the gym, no time off, I've got a little trip to Miami booked in but I'll train when I'm there too. I have to stay in the gym and be ready."
Promoter Eddie Hearn was emotional in the ring after seeing Brook dazzle and the Matchroom supremo is backing one of his first ever signings to return to the summit in 2018.
"There's a lot of history for me and Matchroom with Kell and that emotion spilled out after that brilliant win on Saturday," said Hearn. "He's one of the first fighters I signed and the GGG and Spence losses plus the injuries have been hard for everyone, and Saturday night was a massive moment for the career of Kell Brook.
"If he'd lost the fight it was all over, if he didn't look good it was probably all over, if he'd been injured it was probably all over. The way he dispatched Rabchenko with the sharpness and the combinations, it was great. There was a brilliant energy in the Arena and that was all generated because Kell Brook brings excitement every time he boxes.
"I've always believed that Kell Brook is one of the biggest talents in world boxing – but I've also always believed he was boxing at the wrong weight. Kell always thought he could do 147lbs and in this day and age of social media, he was almost goaded into getting back to 147lbs to defend his title against Spence after fight GGG at 160lbs, people saying he was ducking Spence if he vacated and he wouldn't do that. Take nothing from Errol Spence, but I believe Kell beats him at 154.
"There's some World class fighters at 154lbs, the champions are all elite and there's some brilliant other fighters in the top five, but Kell can beat them all and be the man, Brook is a bigger name than Charlo but he's the champion, so make us an offer.
"Rabchenko is a World class fighter but he's not elite level, Kell proved he's an elite level fighter and we need another step-up in June or July and then we're ready for the big stuff in the winter.
"I was with Kell in October/November time and he was not in a good place. He was so overweight and he was going out and he didn't care about boxing. He felt that a lot of the criticism he was getting was harsh but with the people around him and getting back into the gym, he realised that boxing saves him – he needs it in his life.
"When he's in the gym he's happy so previously when he's won he's just ballooned up and enjoyed himself, now he's said he's going straight back in the gym and you've seen today that he's done exactly that – at 31 years of age you enjoy different things, spending time with the family over going out with the lads.
"He wants to feel healthy and spend time with the kids and be a role model in the gym, he's at the stage in life where he wants to be settled and content and just get everything out of himself."