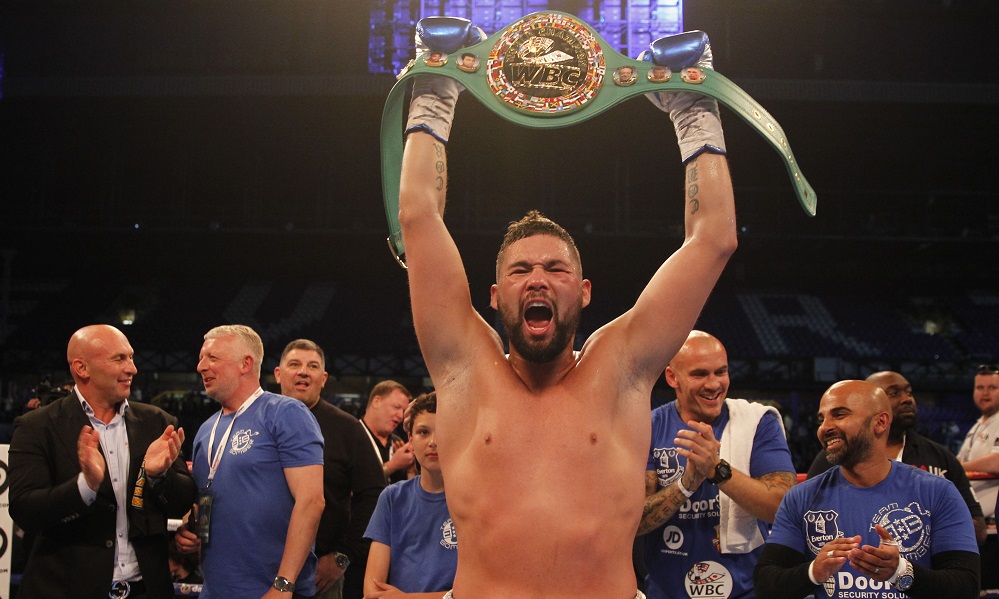 News
Brutal Bellew Banks Dream World Title At Everton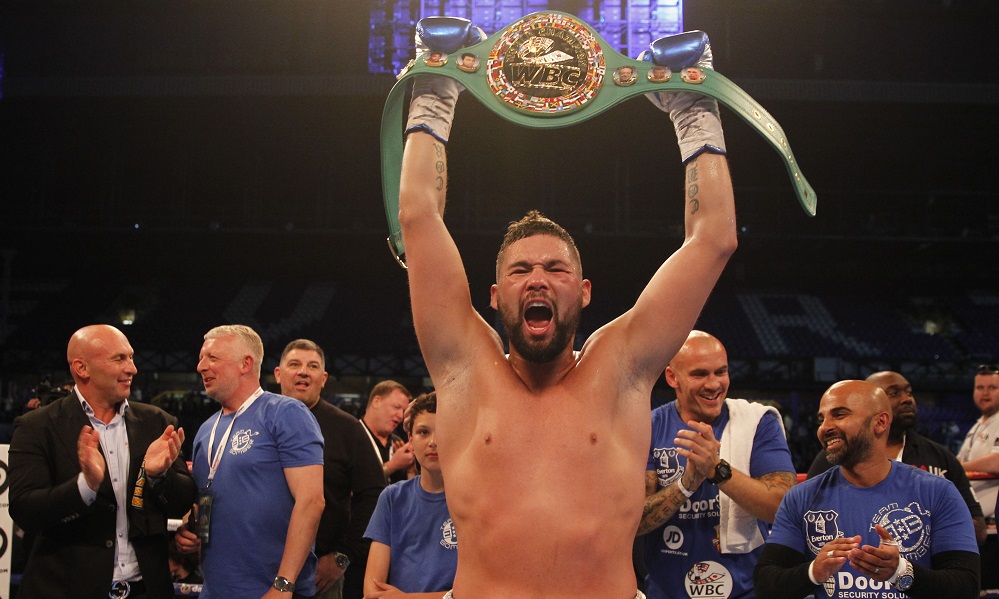 Tony Bellew made turned his childhood dreams into reality on Sunday night when he brutally KO'd Ilunga Makabu in the third round to win the WBC World Cruiserweight title at the Goodison Park home of his beloved Everton.
Bellew walked through the tunnel from the home dressing room and onto the pitch in front of 17,000 fans roaring him to the ring, but after a strong opening to the fight his dream night looked to be heading to a nightmare as Makabu retaliated from a Bellew barrage with a solid left hand that floored a flat-footed Bellew right on the bell.
The Merseyside star regrouped quickly and after regaining his composure in the second round, Bellew produced one of the most memorable knockouts in British boxing history as he poured on the pressure once more and this time there was no response from the Congolese banger, as Bellew unleashed a stunning left-hook that knocked Makabu out cold.
Bellew showed true sportsmanship to first check that the prone visitor was OK before climbing onto the ropes to celebrate with the jubilant fans in the Gwladys Street end where Bellew used to sit as a fan.
"I am Everton," said Bellew. "That's why I got up. Nothing was going to stop me. I can't put it into words. I have achieved a dream tonight. All of those people out there who said I couldn't do it, well I have done it – I am World champion, that's what I am.
"All I do is I believe in my coach and all these people around me. I do it all for them. Without Eddie Hearn and Bill Kenwright I couldn't have done it. That atmosphere was unreal, you have never seen anything like that. The last time I saw that, I was in a Hollywood movie and now it's real."
After soaking up the adulation on the greatest night of his life and one that will live long in the memory for all in attendance, Bellew wasted no time in seeking out more belts having landed his first World title at the third attempt, and wants a showdown with IBF and WBA champion Denis Lebedev before the end of the year.
"Nothing was going to stop me," said Bellew. "I have just beaten the best Cruiserweight in the World and I'm the best cruiserweight in the world now. Denis Lebedev – I'm not coming to Russia, come and get this because I've got the main belt now. I am the man to beat in this division.
"I have said from day one I am one of the biggest punchers in the division and I never get the credit. Nobody's done that to Ilunga Makabu before, no-one. I am the best Cruiserweight in the world, I have proven it tonight. This is the only fight in my whole life I've gone into and dreamed for three weeks that I lose. But I have done it, I am WBC champion of the world.
"Every time I hit him I knew that he could feel it. There's not a man I've sparred or fought that I haven't hurt. When I hit them, I get a reaction. When I caught him in the first round and I got a reaction – I touched him to the body and he winced a bit. The left hand dropped me and it broke my nose immediately. There was nothing me keeping me on the floor, it couldn't happen. King Kong and 25 other men couldn't keep me down."
Bellew's win crowned a stunning bank holiday weekend for British boxing as Ricky Burns became Scotland's first ever three-weight World champion on Saturday night. Burns and Bellew made it an incredible 13 British World champions and promoter Eddie Hearn declared boxing in Great Britain to be in the best place it's ever been.
"Look at British boxing – the champions, the shows, the fights, the media attention; we could not be in a better place," said Hearn. "You get moments like Crolla-Barroso, Burns-Di Rocco and Bellew-Makabu, there is no sport like boxing for that and you can't buy moments like these, they are unforgettable. The emotion was on another level this weekend – I couldn't be happier for Ricky and Tony."