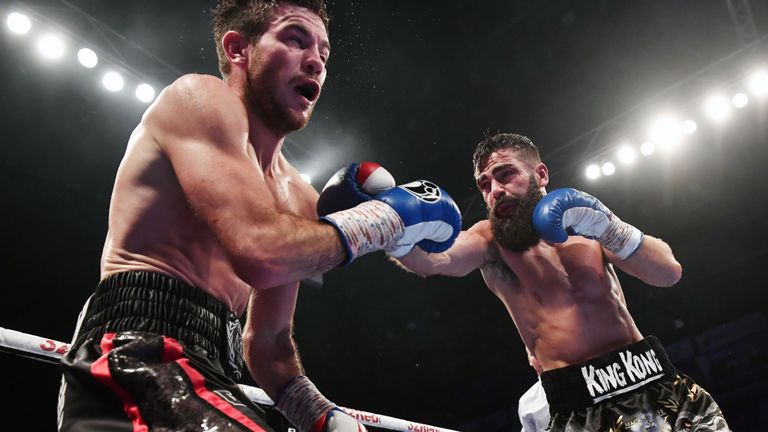 News
Carroll: I'll Beat Frenois Then Smash Farmer!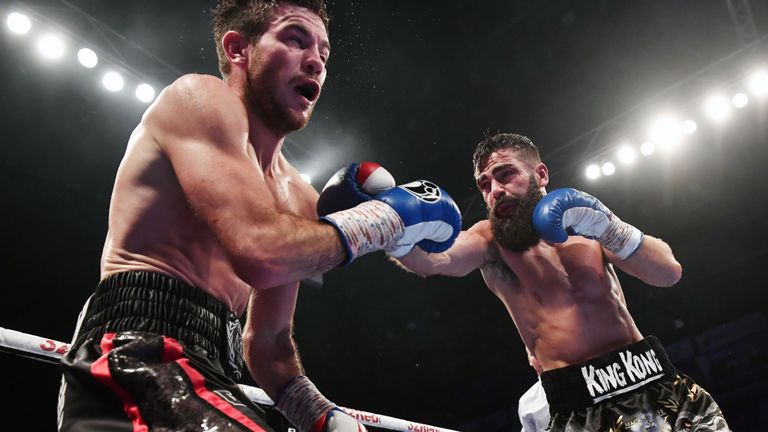 Jono Carroll has branded IBF Super-Featherweight World Champion Tevin Farmer a 'joke of a man' ahead of his final eliminator clash with Guillaume Frenois at the FlyDSA Arena on December 8.
The unbeaten Dublin star can win the right to challenge Farmer by overcoming France's former European Champion Frenois next Saturday, live on Sky Sports in the UK and DAZN in the US.
Farmer took aim at 'King Kong' on Twitter this week, promising to KO the former Prizefighter winner should they ever meet in the ring. A major money fight with Farmer is within touching distance and Carroll believes the American is only keeping the IBF crown warm for him.
"Tevin is an idiot, he's a joke of a man," blasted Carroll. "He gives backhanded compliments to his previous opponents that he's beaten. He does a lot of immature things. He hasn't got respect for anybody. He's a fake person.
"All that flashiness is ridiculous. He does my head in as a person. He's not a true Champion, he doesn't hold himself like a Champion and he doesn't behave like a Champion.
"I can't wait to put him on a platform and smash him up. I'll show everyone that he's nothing but a heartless little b*tch. I'm going to tear him apart. I'm as real as they come but I'm a fighter, I'm a warrior.
"I've seen him quit before in the past. I've watched his fights where he was beaten. Even the commentators said that he looked to the referee for help. If you're once soft, you're always soft.
"For me, he hasn't got a heart. He's just had opponents smartly picked for him at this stage of his career and the ones that weren't smartly picked for him smashed him up and beat him.
"I guarantee you I'm going to take that belt off him. I visualise the fight happening and I visualise winning the belt. There's many ways it can happen. He's literally just keeping that belt warm for me."
Despite the heated back and forth with 'American Idol' on social media, Carroll remains fully focused at the task at hand and insists he is not overlooking 47 fight veteran Frenois.
"I don't know too much about him," admitted Carrol. "He's experienced, that's as much as I know. He's experienced and in boxing you cannot buy experience. I have to be switched on and I have to be on my game.
"In some ways this is my World title fight because it's all or nothing. He's a very dangerous opponent, I'm not overlooking him. But at the same time I believe that I'm operating at World level. I've looked at one or two of his fights and I believe he is European level. I'll adapt to him and I'll beat him, and hopefully stop him."
Carroll's clash with Frenois is part of a huge night of boxing in the Steel City.
Main event sees 'The Special One' Kell Brook take on Australia's former Commonwealth Super-Welterweight Champion Michael Zerafa.
Rising Welterweight star Josh Kelly steps up in class as he takes on former WBA World Champion David Avanesyan in his ninth professional contest.
Explosive Liverpool Super-Welterweight Anthony Fowler is in title action as he targets a showdown with newly-crowned British Champion Ted Cheeseman in 2019 and IBF no.1 Featherweight contender Kid Galahad stays busy with an eye on the winner of Josh Warrington vs. Carl Frampton.
Sheffield is well represented on the undercard with Welterweight Anthony Tomlinson, Super-Middleweight Callum Hancock and Middleweight Shakiel Thompson all in action, while Leeds Super-Bantamweight Qais Ashfaq and Denaby Lightweight Terri Harper also feature.
Tickets for Brook vs. Zerafa priced at £40, £60, £100 and £200 (Inner Ring VIP) are available to purchase via StubHub (www.stubhub.co.uk) FlyDSA Arena (www.flydsaarena.co.uk) and Matchroom Boxing (www.matchroomboxing.com)