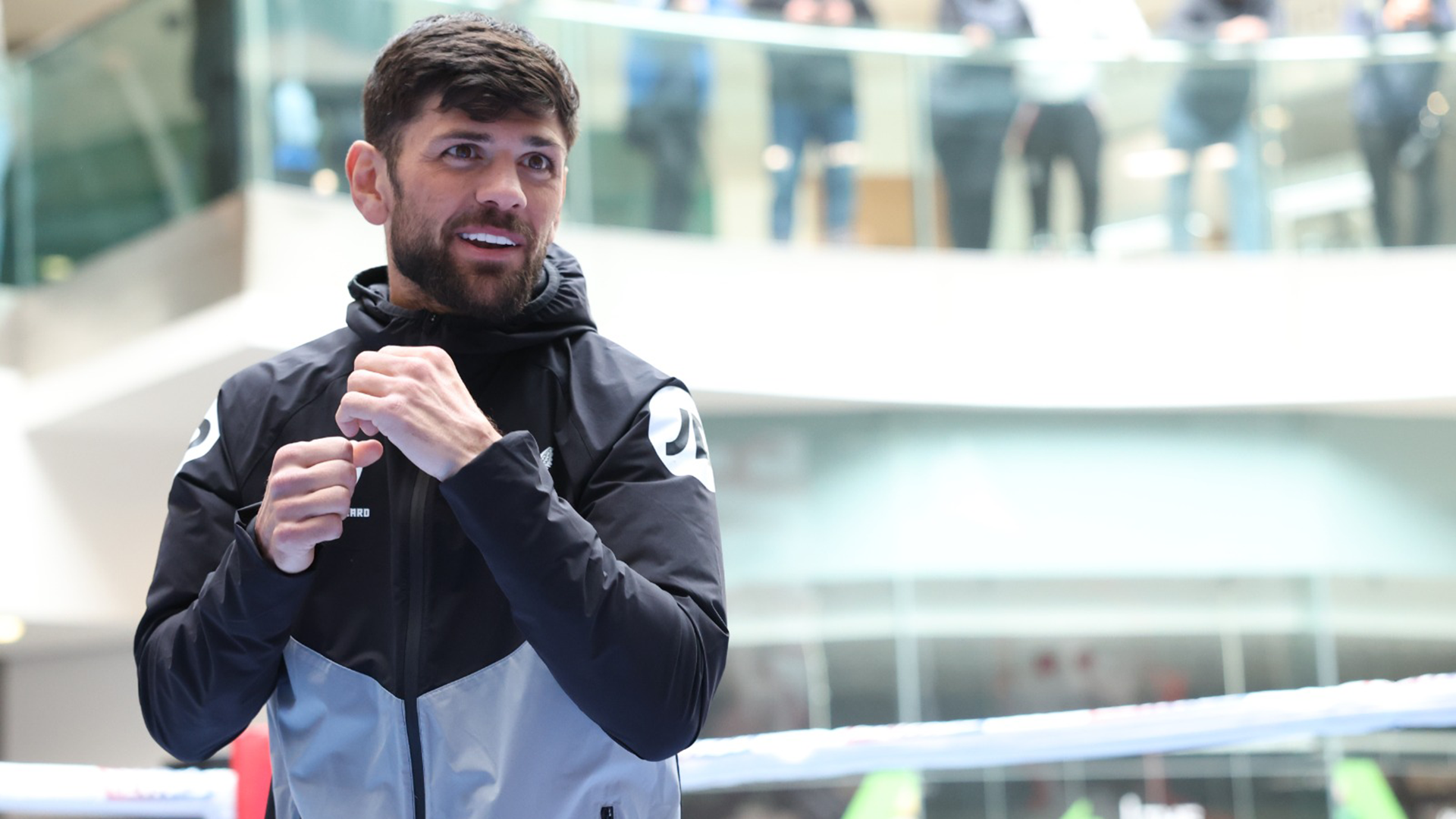 News
Cordina: I'll find a way to put you on the deck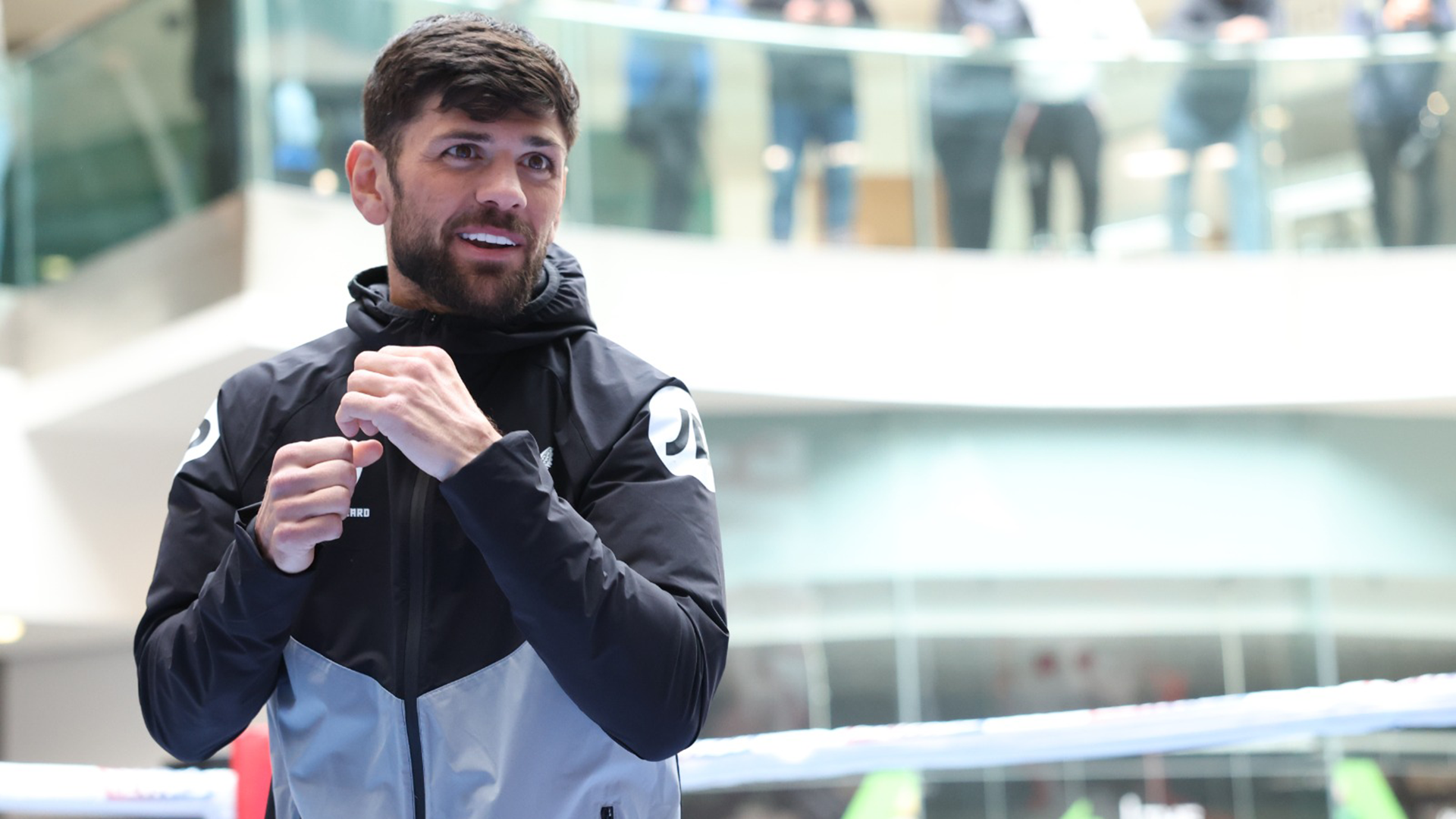 'The Welsh Wizard' bids to become two-time World Champion against Rakhimov in Cardiff this Saturday live on DAZN
Joe Cordina is promising to take out his frustration on IBF Super-Featherweight World Champion Shavkatdzhon Rakhimov when the rivals collide at the Cardiff International Arena this Saturday April 22, live worldwide on DAZN (excluding Australia and New Zealand).
The Welshman (15-0, 9 KOs) achieved a life-long dream as he clinched the IBF Super-Featherweight World Title on a memorable evening in his home city of Cardiff last June, flattening Japan's Kenichi Ogawa with the knockout of his life in the second round.
"It was a shot that me and Tony worked on for hours and hours in the gym," recalled Cordina. "It just felt like putting my hand in water, it was that clean. I looked at him and his head had bounced off the canvas, and I just thought, 'he's finished'. Going to the corner, I could see him trying to get up and I started to panic a bit – I don't need to do 12 rounds here! Good night, he was asleep."
That elation was soon replaced by devastation. Cordina was scheduled to make the first defence of his World Title against Rakhimov in Abu Dhabi last November but suffered a hand injury that required surgery, and he was subsequently stripped of his title by the IBF.
"My first week back sparring, I threw my first proper backhand, and I just felt something pop in my hand and I was thinking, 'oh my god'," remembered Cordina. "The lady at the X-ray told me it was a clean break. I had the operation. It was after my surgery that I knew I was getting stripped. That wasn't a nice moment, I'm not going to lie. I was in a bit of a bad place. I didn't really want to see people, I was stuck in the house for like two weeks. Then I was like, 'f*** this I need to get out'.
'The Welsh Wizard' was ringside at the Etihad Arena in Abu Dhabi for Rakhimov's ninth-round stoppage win over Manchester's Zelfa Barrett which claimed the Tajikistan fighter the vacant IBF crown. It was a tough watch for Cordina, but the 31-year-old now has the opportunity to put things right and regain the title that he never lost in the ring.
"It was quite frustrating me being there and watching those two (Rakhimov and Barrett) – I'm not going to lie. I looked at him (Rakhimov) and said, 'I'm going to f*** you up, see that? (clenches right hand) I'm going to land that right on your chin'. I just kept saying, 'I'm going to f*** you up' – that's all I kept saying. In my head that's my belt, I need to get that back. I never lost my title in the ring, I haven't had a chance to defend it. I'm going into this fight as a challenger, but in my head I'm a World Champion and I have the confidence of a World Champion."
Freddie Roach-trained Rakhimov (17-0-1, 14 KOs) looked impressive as he came from behind to wear down and stop Barrett, but former Team GB star Cordina insists that he is prepared for anything this weekend and won't be denied the chance to create history by becoming a two-time Champion of the World.
"Shavkat Rakhimov – he's tough, he's strong, he's fit and he can punch hard. I always say, you have to have a little bit more than just that to beat me. I'm a little bit better than him in all the boxes. I believe I've got a very good boxing brain. My ring IQ is second to none. My footwork is a different level. I'm good on the inside, I can fight up close. I can fight going backwards. I can pretty much do it all.
"Don't get me wrong, I'm not perfect in any way, shape or form and I'm not the finished article, but he has to have a little bit more than just being tough and strong and being able to punch to beat me. He isn't really brining anything that I've never seen before. There's not a man on the planet that I fear. I'll find a way to put you on the deck."
Rakhimov vs. Cordina headlines a huge night of boxing in Cardiff; Welsh rivals Gavin Gwynne (15-2-1, 3 KOs) and Craig Woodruff (12-6-1, 4 KOs) rematch for the British Lightweight Title following their thrilling draw at the Bolton Whites Hotel last September, Manchester Cruiserweight Jordan Thompson (14-0, 11 KOs) puts his IBF European Title on the line against Swindon's Luke Watkins (16-2, 11 KOs), Derby's Sandy Ryan (5-1, 2 KOs) clashes with Canada's Marie Pier Houle (8-0-1, 2 KOs) for the vacant WBO Welterweight Title, Manchester's former World Title challenger Zelfa Barrett (28-2, 16 KOs) faces the USA's Jason Sanchez (16-3, 9 KOs) for the WBA Continental Super-Featherweight Title, Australia's Skye Nicolson (6-0) steps up against Peru's Linda Laura Lecca (15-6-2, 3 KOs) over eight rounds at Featherweight, Swansea Super-Bantamweight Brandon Scott (4-0, 1 KO) takes on Reynaldo Cajina (15-79-5, 11 KOs) over four rounds, Newport Super-Featherweight Nathan Howells (5-0-1) meets Oldbury's Jahfieus Faure over four rounds, Swansea Light-Heavyweight Sammy Lee (1-0) fights Latvia's Juris Zundovskis (6-5, 5 KOs) over six rounds and Kingston Heavyweight Miles Gordan-Darby (3-0) takes on Swindon's Phil Williams (5-41-1, 1 KO) over four rounds.
Limited remaining tickets can be purchased via Stage Front.