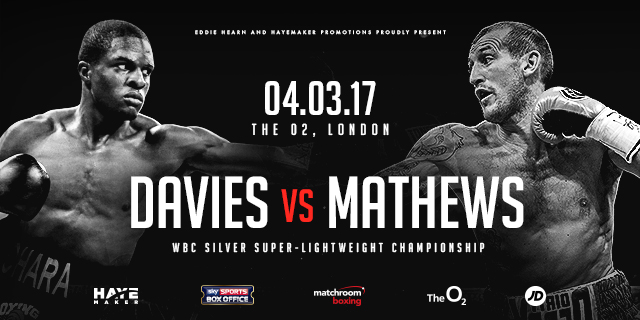 News
Davies Faces Mathews On Haye Vs. Bellew Undercard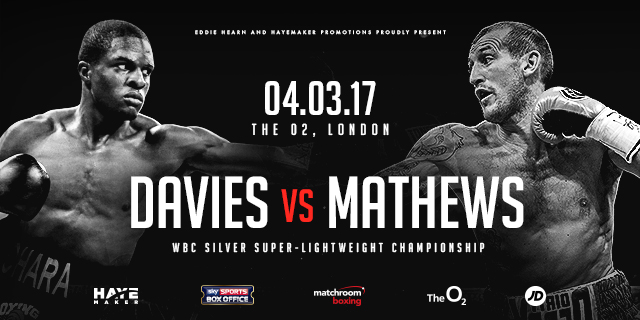 Ohara Davies will defend his WBC Silver Super-Lightweight title against 'Dirty' Derry Mathews on the undercard of the David Haye vs. Tony Bellew's Heavyweight blockbuster on March 4 at The O2 in London, live on Sky Sports Box Office.
Undefeated Davies won a unanimous decision over Andrea Scarpa at Wembley Arena in November and had called out Mathews on Twitter after the Liverpool fighter's Commonwealth Lightweight title defeat to Luke Campbell a month earlier.
Former World title challenger Mathew's has stepped up a division to answer that call and as he hunts to get back in the mix for major honours, but Davies has promised to KO his opponent into retirement at The O2.
"I'm happy the fans finally get the fight they want to see," said Davies. "For Derry, I'm happy he has got the fight that he wants but what both the fans and Derry must understand is, I'm not here to play.
"I'm here to win World titles. Derry Mathews' name must be added to my KO record for me to continue the journey.
"Come March 4 I will be in the best shape of my life, and I will retire Derry Mathews for good."
Mathews said: "I have to shut him up, he's done my head in. I just want to smash him to bits.
"I don't know where all this has come from because I don't know the kid – is it all for publicity or is he really that mouthy and disrespectful? I've never met him so I couldn't say, but he seems a strange one.
"He's got a chip on his shoulder. I think over my career I've gained the respect of my fans by the fights that I've been in. He's trying to get a big-name fight by calling people out on Twitter, badmouthing people. As soon as I was offered the fight I jumped at it. I want to beat him bad.
"There will be lots of Scousers there but I think half of London wants me to beat him too. He's got a horrible attitude and he comes across badly on social media. He's trying to be a bad boy but he's hanging out with TV stars from TOWIE. I don't know what he is – is he a London bad boy or an Essex TV star? I don't think he knows himself, but I know he'll be getting in a cab home after the fight with Arg and no belt.
"He's the WBC Silver champion but I think he's been handed that on a plate – it's the same belt that Callum Smith and Luke Campbell have and they'll fight for World titles this year. Davies shouldn't be on a par with them, so I am going to rip that belt off him and get my name back in the mix and this time at 10st.
"I always spar around 10st 4lbs and I feel better, and I think that even though I am moving up I will be the bigger man in there. That extra weight is going to add to my power and strength."
Tickets for Haye vs. Bellew sold out in record-breaking time when they went on sale in December.