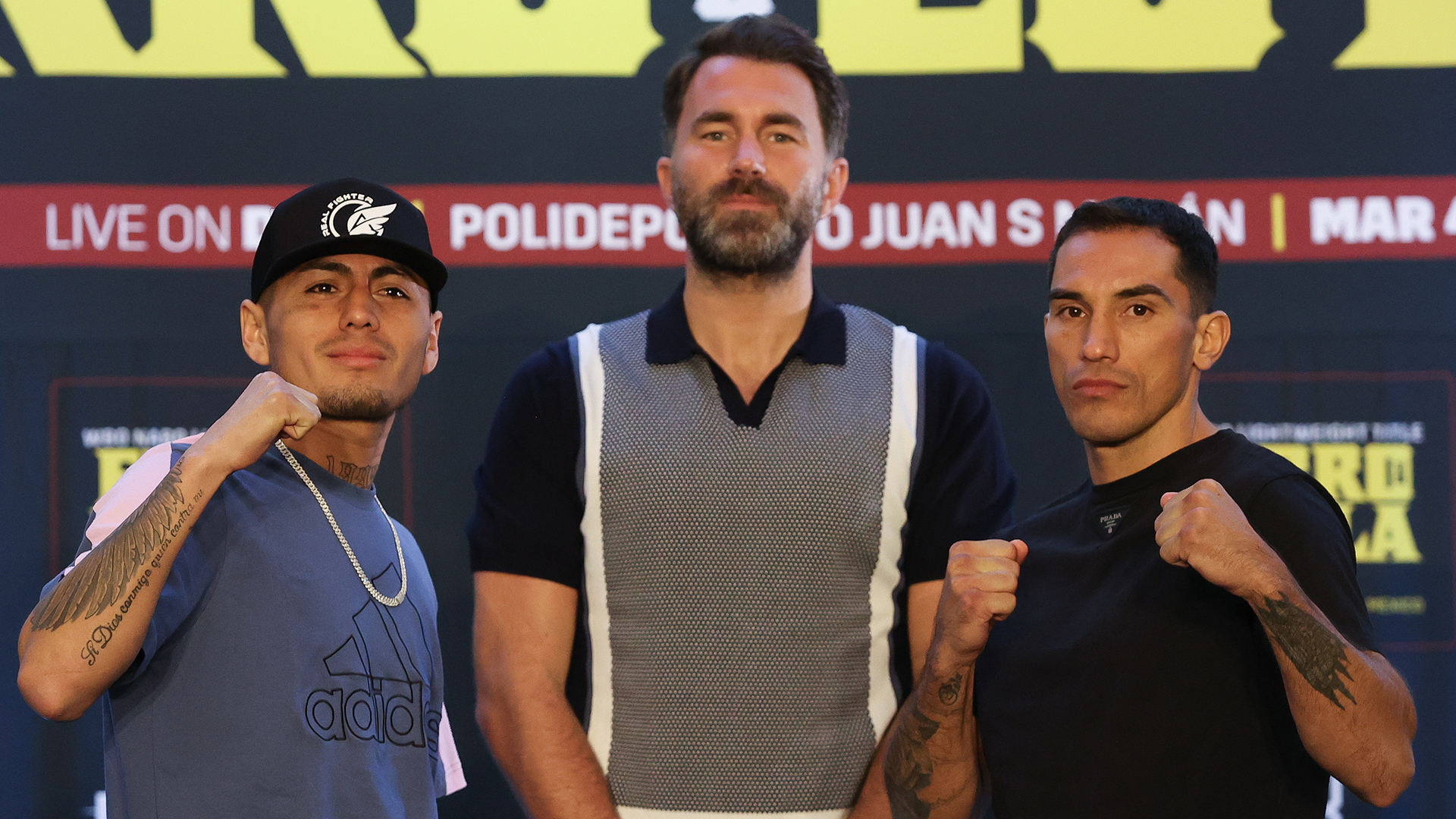 News
Fierro vs. Estela – Final Press Conference Quotes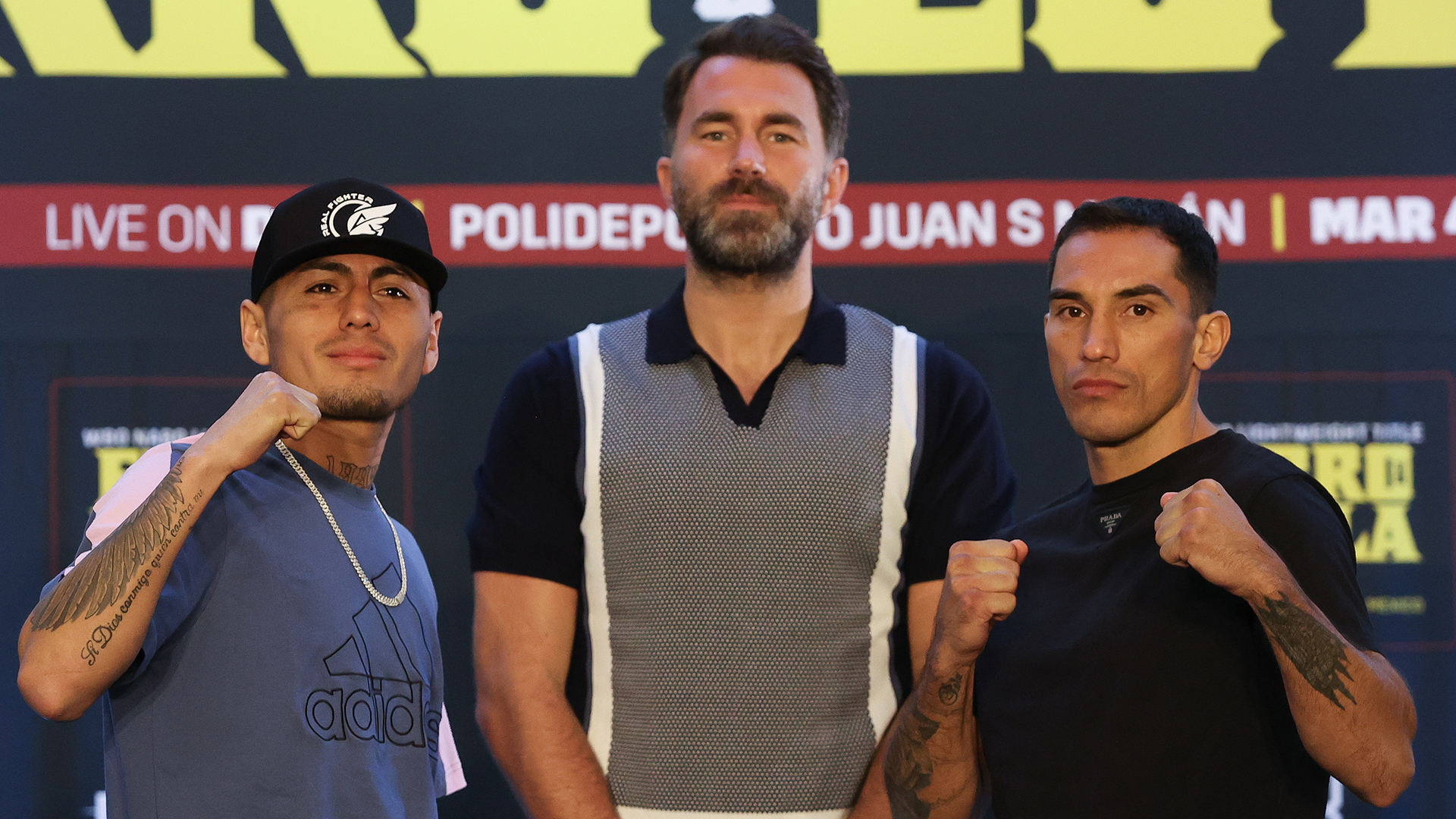 Fierro defends WBO NABO Lightweight title against Estela live on DAZN
Eddie Hearn
"We have a huge card here in Culiacan, live on DAZN around the world. This Mexican adventure has been incredible for Matchroom, some of the best cards we've seen from top to bottom and Saturday is no exception. We have a fantastic main event and a deep card with some exciting young fighters.
"What a night in Nottingham when Mauricio Lara beat Leigh Wood to become World champion and he's a great example of the young talent here that needs to be unearthed and given an opportunity, and all we do as promoters is make great fights and deliver value for fight fans, and these cards see hot prospects and World rated fighters continuously step up and fight the very best in the business."
Angel Fierro – defends WBO NABO Lightweight title against Eduardo Estela
"I am delighted to be here in Culiacan. All my fights are guaranteed to be wars. God willing, we come through Saturday, it will out me in a wonderful position to fight for a World title, so I am extremely motivated.
"I have fought in many different places in Mexico and it's nice to become known and to be a favorite with people. I boxed in Mexico City in front of my home fans and that was special, I feel the fans like me and that makes me very happy.
"I'm calm, I'm motivated, I'm close to that shot of getting a World title fight. He is confident and I respect him, but it will be a complete war in the ring, and I will be ready to give what I need to give."
Eduardo Estela – challenges Angel Fierro for the WBO NABO Lightweight title
"We're totally prepared for Saturday; it's a big fight and it's going to be a war. I hope all the Latin fans enjoy it as when you get two Latin fighters in the ring together you are guaranteed a war and that's what's going to happen.
"We're confident because we've trained so well and we've put the work in, day in, day out. We have clear objectives, we understand that victory would catapult us to get the big fights, those are what all boxers want so we are so ready.
"We've studied him, we know he hits hard but can also take a shot, we're completely ready for it."
Eduardo Nunez – takes on Martin Ceyca over ten rounds at Super-Featherweight
"It's a great opportunity and an important one, and I won't let it pass me by. I've prepared really well; I have a great opponent in front of me and I have put the work in and everything is on the table to do what I need to do.
"I have no issues with weight, I control it well and I can fight at 126 and 130. I would love the chance in the short term to fight for a World title and I think it's something I will do very soon.
"I'm just excited to be on such a fantastic card, it's a small step in my career but I want to show that I am ready and for people to know my name on Saturday."
Martin Ceyca – takes on Eduardo Nunez over ten rounds at Super-Featherweight
"I want to thank Matchroom and BXSTRS for putting on a show in Culiacan, we could never imagine a show of this magnitude happening here. For Saturday, I feel I belong on this card, and I am ready to perform.
"Every show that's happened here, we've always had a great atmosphere and that's down to the fights being 50-50, and I expect something similar on Saturday, and the fans will be happy."
Criztec Bazaldua – Matchroom's latest signing making his professional debut
It's an honor to be part of such a great company with Matchroom, it's the best and it's truly a blessing.
I have the best trainer in the world in Manny Robles, the best teammates and I think I have the best team around me, I have shared the ring with great pros and amateurs already and I can't wait for Saturday.
Misael Rodriguez – unbeaten (12-0 7 KOs) Middleweight facing Aaron Rocha
"It's a big challenge in front of me but we're ready for big things. I am taking this year as one to grow and I am hoping to put on a show in Culiacan.
"We have plans and I am looking to do great things with Matchroom, I am proud to be fighting on this card and will give the fans the fight they deserve."