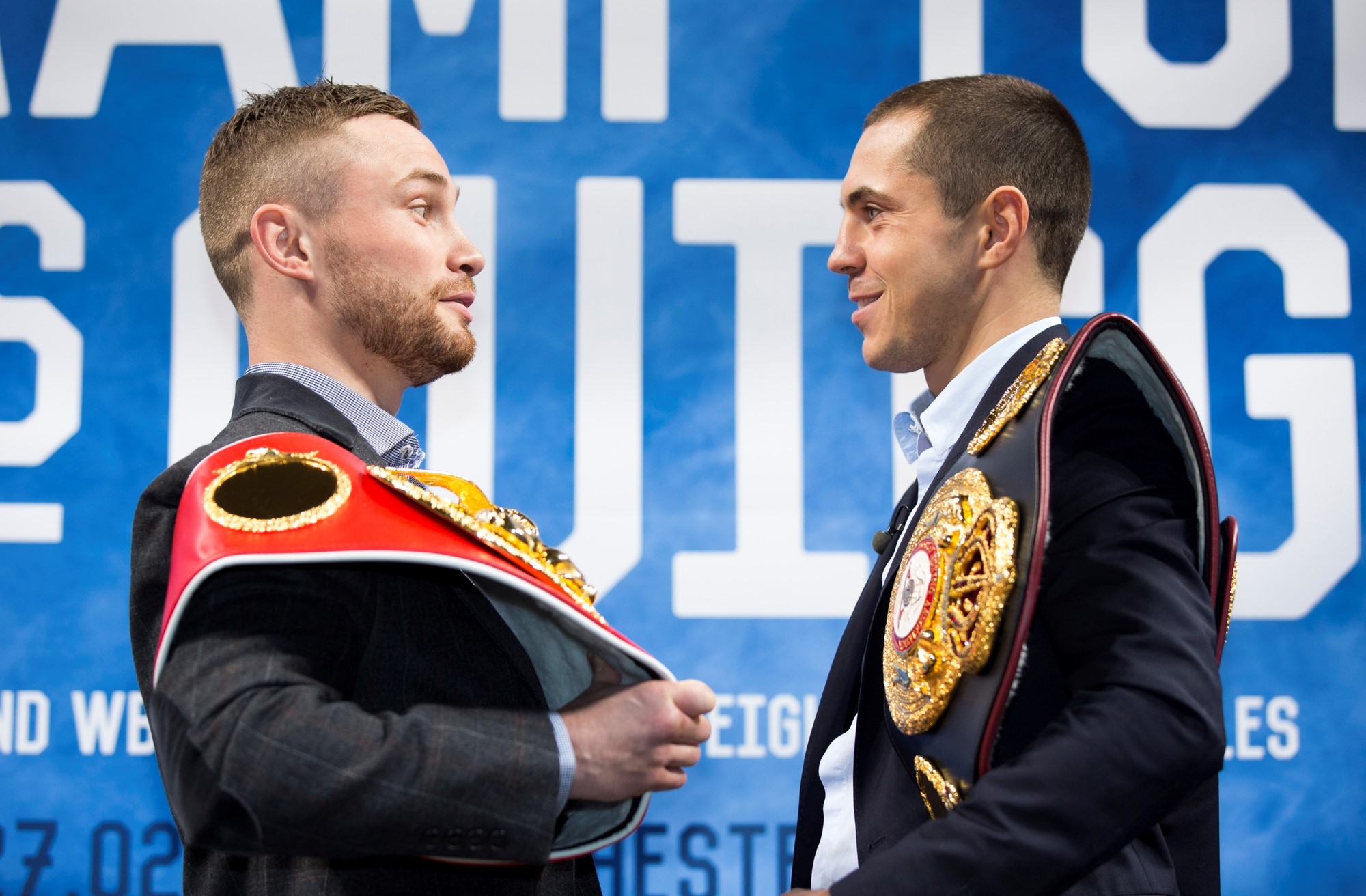 News
Frampton And Quigg Set Battle Lines In Press Tour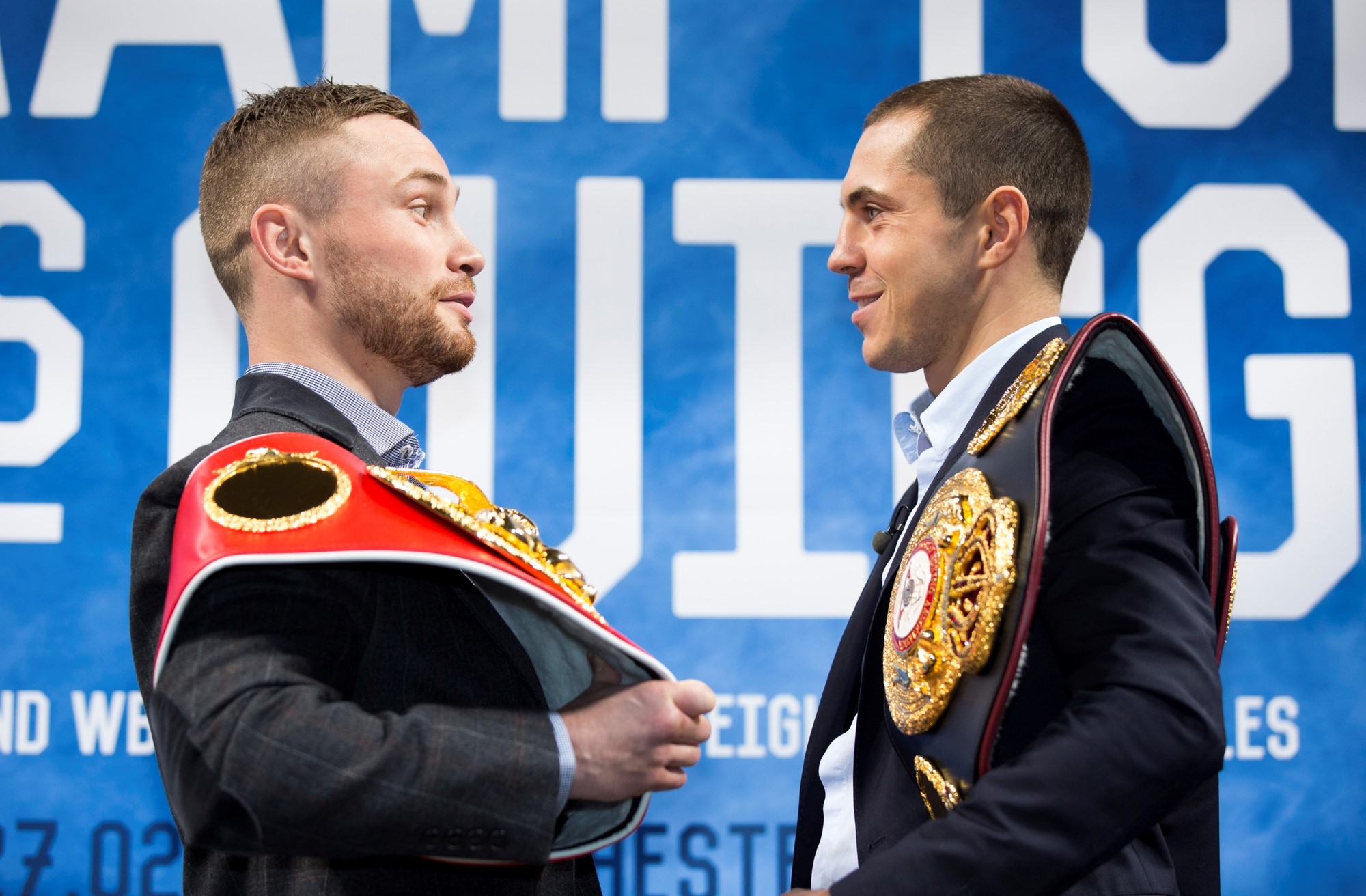 Three-city trip whets the appetite for blockbuster unification clash
Three days, three cities, and plenty to say. Ahead of their massive Super-Bantamweight IBF and WBA unification fight at the Manchester Arena on February 27, Carl Frampton, Scott Quigg, and their respective teams have journeyed from London to Belfast via Manchester to promote the most anticipated fight on these shores for decades.
One of the few points all parties agreed upon is that this is the optimum moment for the mega bout to happen. "The timing had to be right, and it is now," began Frampton's manager Barry McGuigan while Quigg's promoter Eddie Hearn spoke of having "an obligation to boxing to make this fight happen."
Frampton described it as, "a huge fight, one I've been after since I won the Celtic Title over four years ago," and Bury's Quigg was quick to get into the festive spirit: "This is the fight I wanted and it was a great feeling when I signed on the dotted line. The day I signed was my Christmas because I'll be in the gym on December 25."
Frampton's trainer Shane McGuigan is also convinced the timing is perfect. "It's a joy to get this fight. It could have happened at British or European level but now it's a World-level unification fight," while McGuigan senior spoke of massive fights such as these becoming "part of your lives, something you share with your kids. Sport is like a religion in that way."
There was further agreement during the opening exchanges on the sheer size of this event. "The biggest fight in the super bantamweight division, one of the biggest fights in world boxing, and a night that Britain and Ireland will never forget," said Hearn.
McGuigan talked about it being "a genuinely global event" that is comparable to the great Barrera Morales battles while Quigg simply confirmed that "these are the fights I'm in boxing for."
Both sides were predictably vocal and bullish on their chances in the ring come February. Quigg's trainer Joe Gallagher described the challenge as "just another day at the office" and promised "a convincing win for Scott" in a fight that "will be easier than people think." "As soon as Scott lands, head or body, it's over," he concluded.
Shane was having none of that and assured the assembled press and public that Frampton is "the more complete fighter. He punches equally as hard as Quigg and he is the better boxer. His amateur pedigree will shine through and he'll 100 per cent win this fight and move onto bigger and better things." Barry agreed with his son in stating, "our man is going to win, and he's going to win spectacularly."
Quigg was quick to counter, "I know I'm better in every department. I've got the tools to beat him and beat him convincingly," but Frampton shook his head, "I'm going to bamboozle him with my boxing skill and I think I will knock him out."
Frampton believes that his flawed performance against Alejandro Gonzalez Jr. is the only reason Team Quigg have now agreed to get into the ring with him and while Quigg concurred, it was for very different reasons: "I agree that is why it's happening. People around Carl have realised he's not as good as they thought and need to make the fight now while he is still unbeaten. He went to the US with about 15 people and was up and down like a yo-yo."
The verbal jousting is all good fun but will be irrelevant when the first bell rings on February 27th and only Carl Frampton and Scott Quigg are in the ring.
"Everything I've done leads to this moment," Quigg told us in Manchester with real emotion. "If I don't win then everything before means nothing. And I one million percent think I'll win."
Needless to say, IBF champ Frampton is just as excited and confident. In front of his adoring faithful in Belfast he summed up his own feelings succinctly: "I'm going to win, that's it. If it's on points it'll be a shut-out and if it's by knockout it's going to be spectacular."
Tickets for the blockbuster IBF and WBA World Super-Bantamweight title clash between Carl Frampton and Scott Quigg will go on sale at 9am on Friday November 20.
Frampton and Quigg have been on a collision course for years and finally meet in the ring on February 27 2016 – and tickets are set to be snapped up in record time this Friday.
Ticket for the night are priced at £40, £60, £80, £100, £150, £200, £300, £400 and £500 (plus applicable booking fees) available from www.manchester-arena.com and by calling the Manchester Arena 0844 847 8000. Frampton fans are encouraged to visit the Manchester Arena website to purchase tickets in the Frampton-fans section.
VIP tickets priced at £800 are available from www.matchroomboxing.com or www.cyclonepromotions.com
There will be an additional allocation that will go on sale through Matchroom Boxing Fight Pass at midday on Friday November 20.