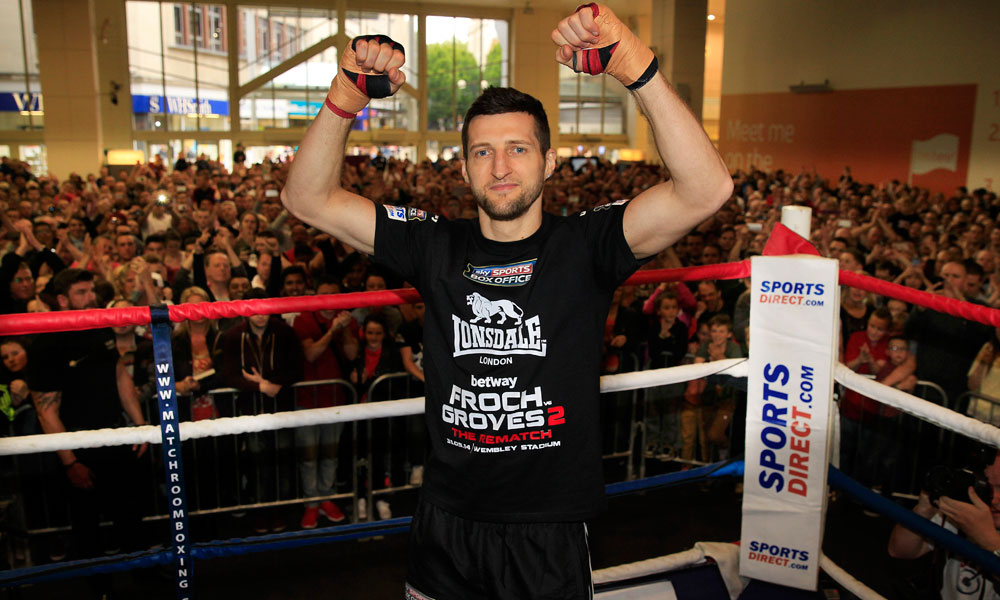 News
Froch: Groves Is Dining Out On His Knockdown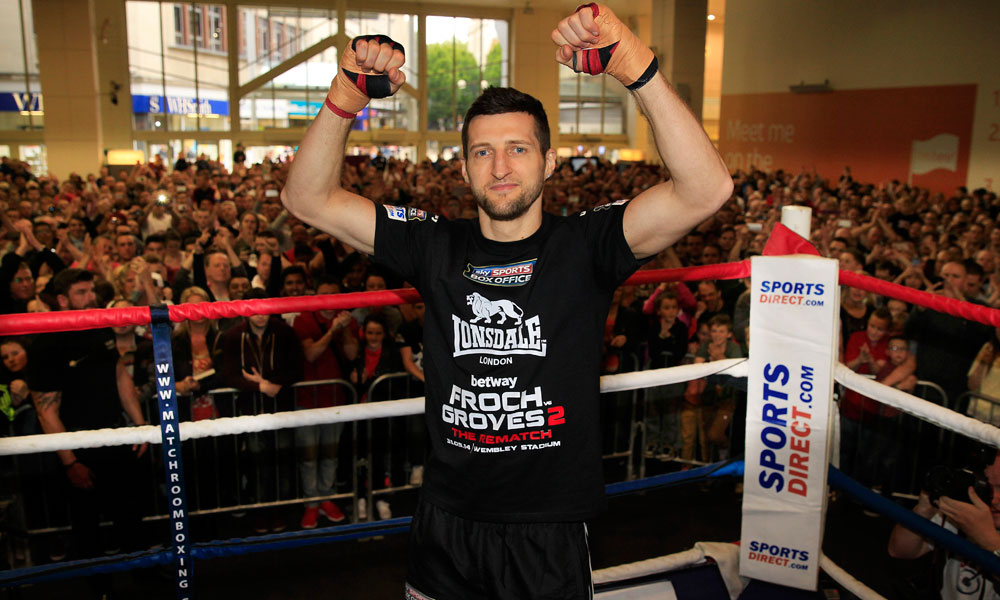 The Cobra tells Behind The Ropes that Groves won't get under his skin this time
Carl Froch told Sky Sports' Behind The Ropes that George Groves has been 'dining out on his round one knockdown against The Cobra' and that he won't let the challenger get under his skin in their rematch for Froch's WBA and IBF World Super Middleweight titles on Saturday at Wembley Stadium connected by EE, live on Sky Sports Box Office.
Sky Sports gained exclusive access to both camps ahead of the huge clash and tonight on Sky Sports 1 at 7pm we see the first of the two-part fly-on-the-wall look at how these two bitter rivals are shaping up for the biggest fight in British boxing history.
Froch stopped Groves in controversial circumstances in Manchester in November having climbed off the canvas in the opening round to halt the Londoner in the ninth round. 'The Cobra' told Sky Sports that he believes that 'Saint George' has been living off the first round success in the build up to the rematch.
"George Groves has been going to the opening of an envelope, dinning out on his round one knockdown against The Cobra and giving it large," said Froch. "But that's his prerogative if he is enjoying the moment his little time his little five minutes of fame then you know he should do he should enjoy it, but really he should be concentrating on his fighting and his boxing."
Froch poured on the pressure in the ninth round after Groves had been the boss through the first half of the fight, and the champion put that sluggish start down to his mind-set on the night, but says he was robbed himself of a grandstand finish.
"I wasn't feeling sharp I didn't really want to get in the mood I didn't really want to warm up or want to be on the ball, I was just like let's get this fight out the way, and I've been there before in my career and I just want to get it done and dusted. My A-game, it wasn't there that night, for many reasons.
"I hit George Groves with an over hand right hand that he didn't see coming and his legs stiffened and he stumbled towards me. He grabbed my legs, the ref saw that and I saw it. George was gone; he was in serious, serious trouble. I shoved him off of me, backed him up against the ropes, right hand, a left hook landed, another right hand, another left hook. He was stumbling looking like he was trying to do something, and he was gone looking at the floor, his arms was slumped and his head was slumped. I would have preferred the fight to have gone on longer because I was on top I was in control I was doing what I do I was punishing him and lining him up for the big finish."
Froch has consulted with a sports psychologist ahead of the showdown at Wembley, and with polished performances next to opponent on Ringside and face-to-face with him on The Gloves Are Off, the Nottingham star has refused to engage in the mind games that Groves played so well ahead of the first clash.
"I never think about my opponent really unless he is mentioned," said Froch. "I don't need to think about it I need to worry about myself I have probably been thinking too much about George Groves in the first fight in the training camp on the first build up to the fight I was probably thinking about him too much and that was part of his game plan to get under my skin and wind me up.
"It was effective and it worked but it will not happen twice – no chance. I might be stupid for the first one but I'm not double stupid, and I won't make the same mistake twice. I can think about George, I cannot think about him, I can listen to him, I cannot listen to him, it's all a bit 'whatever, in one ear and out the other'. I'm just not paying any attention to him."
Froch's grudge match with Groves is part of a huge night of action at Wembley, with James DeGale MBE facing Brandon Gonzales in a final eliminator for Froch's IBF title.
Jamie McDonnell tackles Tabtimdaeng Na Rachawat for the vacant WBA Bantamweight title, Kevin Mitchell meets Ghislain Maduma in a final eliminator for the IBF Lightweight title and Olympic Gold medal hero Anthony Joshua MBE faces Matt Legg in his sixth pro contest.
Watch Froch v Groves II live on Sky Sports Box Office, May 31. Book online now at skysports.com/frochgroves2 or by calling 08442 410888.