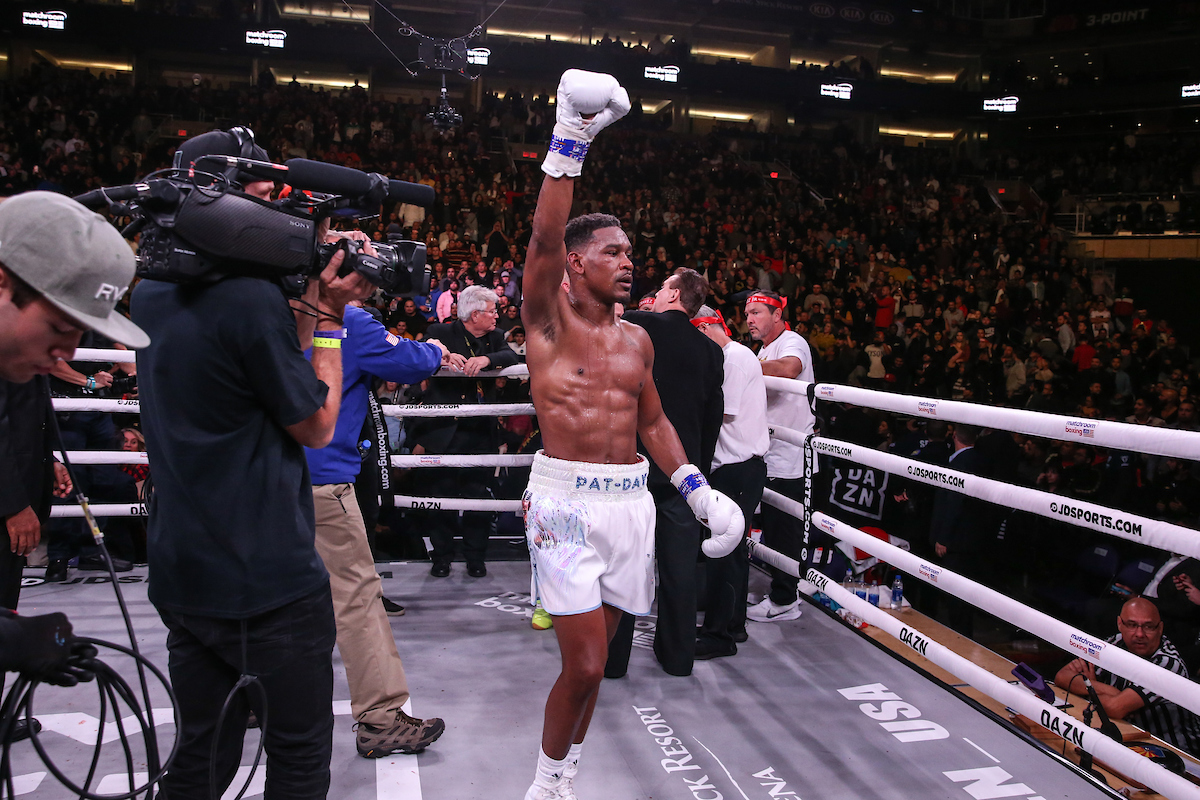 News
Jacobs Stops Chavez Jr In Wild Night In Phoenix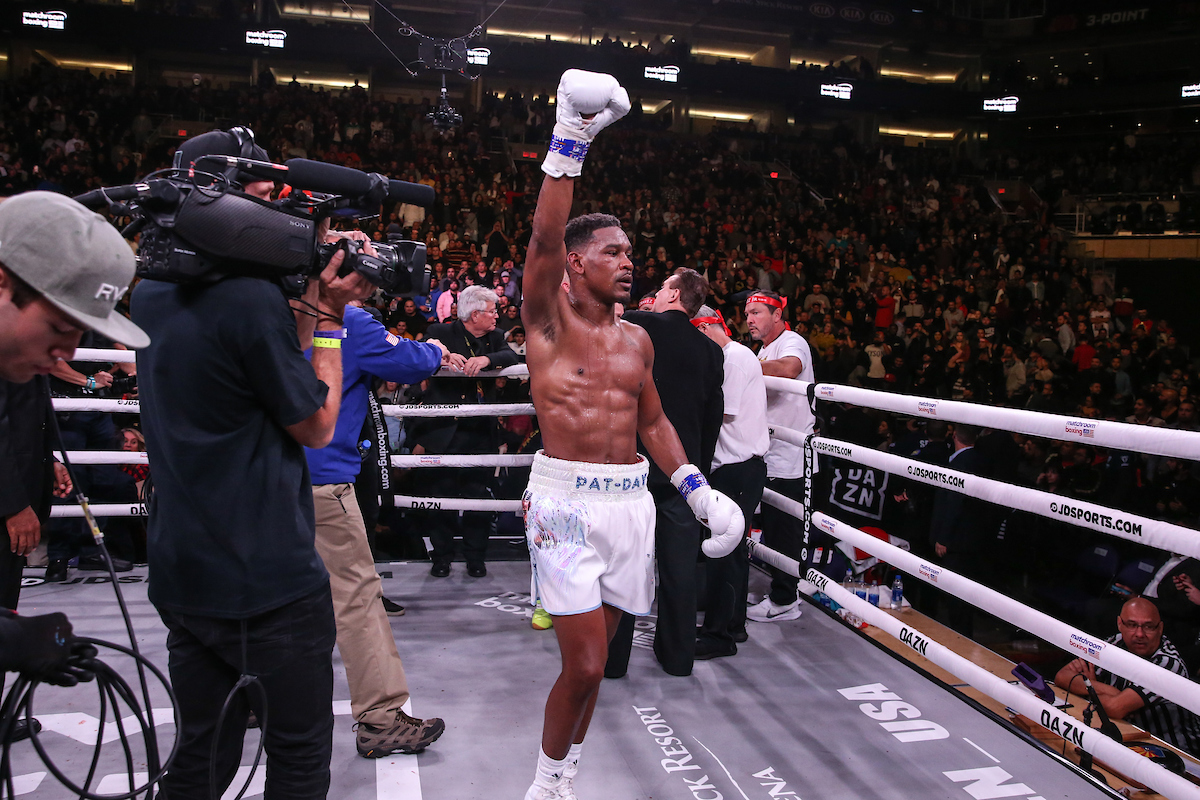 Miracle Man forces Mexican to retire after five – Martinez wins World crown in barnburner
Daniel Jacobs landed in the Super-Middleweight division with a bang, forcing the retirement of Julio Cesar Chavez Jr after five rounds of a wild night in Phoenix, Arizona, live on DAZN in the US and on Sky Sports in the UK.
Jacobs (36-3 30 KOs) stepped up to 168lbs for the first time in his career on the bill, with the two-time Middleweight ruler keen to make a big noise on his bow at the weight, with WBC champion Callum Smith a keen observer amongst the packed crowd.
Chavez Jr (51-4-1 33 KOs) was out to prove that he was the man to be taking his first steps to becoming a two-weight champion, and the Mexican delighted the partisan crowd by starting like a train in the opening rounds.
Jacobs soon found his feet in the fight, and heavy blows from both protagonists in the fourth session saw them roar to the crowd as they headed back to their corners, but the fifth round would provide a dramatic ending.
Jacobs stepped on the gas and landed heavy shots on Chavez Jr, who ended the round with blood pouring uncontrollably from his nose. As the referee stepped to his corner to speak to the son of the legendary Julio Cesar Chavez, the fight was waved off, seemingly a combination of a broken hand and broken nose – much to the dissatisfaction of the Mexican fans in the stands.
For Brooklyn man Jacobs, 32, 2020 looks bright as he now targets 168lb rulers like Smith, Billy Joe Saunders and David Benavidez,
"To me it wasn't my debut at Super-Middleweight," said Jacobs. "This is so disrespectful; this was at Cruiserweight. His jab was so heavy, physically he was a bigger man. I tried my best to be elusive and box, he was a heavy man. I tried to counter his punches.
"It took me two or three rounds honestly. I don't know what he had left. I don't know if he had something up his sleeves, but I just wanted to be acclimated. I made sure I could take punches, see if he wanted to brawl.
"This wasn't necessarily at Super-Middleweight. He fought at Cruiserweight. I want to move forward and prove I'm the best. It's a matter of getting acclimated and moving forward in the right direction.
"I want to fight the biggest in the division. I want Jermall Charlo and GGG again. There's Billy Joe Saunders and a lot of other champions."
"It was a very good fight," said Chavez Jr. "I was getting close but got headbutted above the left eye. Then I had problems because of all the blood. I came over to the corner and couldn't breathe. He elbowed me, and headbutted me. Very tough fight, I felt I couldn't go because I couldn't breathe properly. The ref wasn't calling anything.
"I apologize to the fans. I'd love to have a rematch. I got headbutted, he fought a dirty fight, and didn't even take a point away. He would have been able to continue doing the dirty work."
Julio Cesar Martinez (15-1 12 KOs 1 NC) and Cristofer Rosales (29-5 20 KOs) served up a late contender for fight of the year as Martinez got his hands on the WBC World Flyweight title at the second attempt.
The opening rounds were fought at a furious pace with both fighters throwing a huge volume of punches, and while the action failed to slow, Martinez began to exert his authority over the former champion and his relentless pressure told in the ninth round as the ref waved the action off to crown the Mexican as World champion in his 17th fight, becoming the first man to stop the Nicaraguan.
"Very happy, very strong preparation," said Martinez. "We knew Rosales would be a tough fighter, he lasted 7 or 8 rounds, but the tricks came our way and we came out and won the fight. Not at all, those are punches that come. We're happy Eddie Hearn gave us another opportunity and we were able to come through."
"We want to follow in Canelo's footsteps. We will go for all the titles and belts, wherever and whenever. Thank you to all the people in Mexico!"
Maurice Hooker (27-1-3 18 KOs) landed in the Welterweight division in style with a first round KO win over Uriel Perez – but stated afterwards that he could return to 140lbs to look to regain his WBO crown.
A right to the temple rocked Perez into the corner and Hooker pounced on the Mexican, sending him to the canvas with a barrage of punches that he failed to recover from.
"I felt good, I want my belt back," said Hooker. "I'll do whatever I can to get my belt back. Josh Taylor, whoever it is, I want my belt back at 140.The weight didn't matter to me. I got a new team, we trained hard, and I'm ready. Tonight, I couldn't show you too much, but next fight I will. I got in my rhythm and hit my shots.
"I know when I hit him with the body shot, I hurt him. When he backed up on the ropes, I attacked him. I have the best jab at 140. No one can beat me when I'm conditioned. I just want my belt back. Where I'm from I can't go out like that. I want my belt back."
Reshat Mati (6-0 4 KOs) was sensational in his first round demolition of Rakim Johnson, flooring the American four times in a devastating display of the New Yorker's growing power.
Fellow Matchroom Boxing USA young gun Raymond Ford came to the ring dressed as Santa Claus (5-0 2 KOs) and he delivered an early present to the fans as a ferocious right-left combination sent Francisco Muro to the canvas half way though the opening round and Ford swarmed all over the local man and put him away in style with over a minute left in the first.
Liam Smith (29-2-1 16 KOs) put his trademark body work on display against teak tough Mexican-Texas Roberto Garcia, with 'Beefy' getting ten valuable rounds under his belt, 99-91 twice and 98-92 to the Liverpool man on the cards.
Josh Kelly (10-0-1 6 KOs) went ten entertaining rounds with seasoned Nicaraguan Wiston Campos, with Kelly managing a cut over his right eye and then flooring Campos in the final round to 99-90 twice and 98-91.
Daniyar Yeleussinov (9-0 5 KOs) kicked off the night with an impressive win in his ninth pro outing, dominating Alan Sanchez over the first half of their ten round clash, with Yeleussinov earning a fifth stoppage win of his career in the fifth round of their clash  and setting up what promises to be an exciting 2020 for the 2016 Olympic gold medal man.