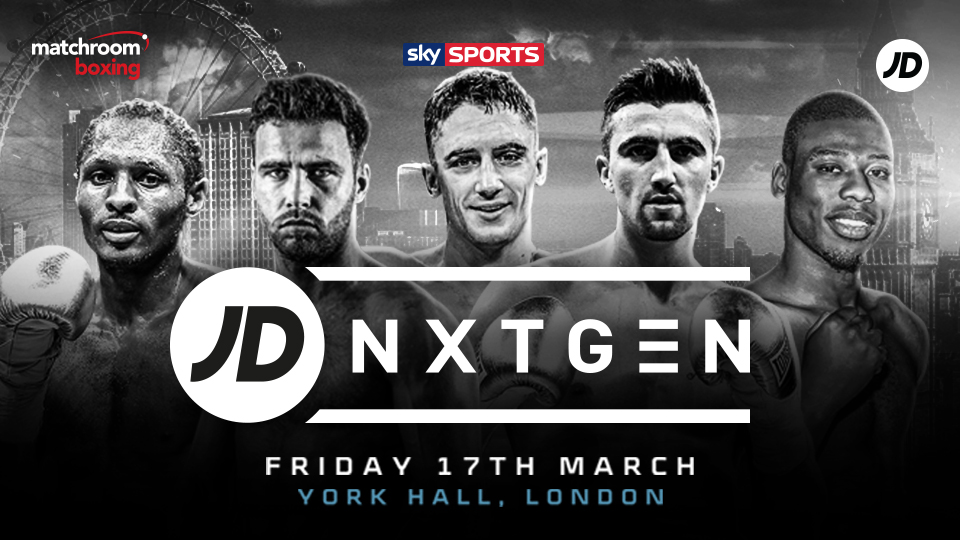 News
Jd Become Title Partner Of Matchroom Boxing's Nxtgen Series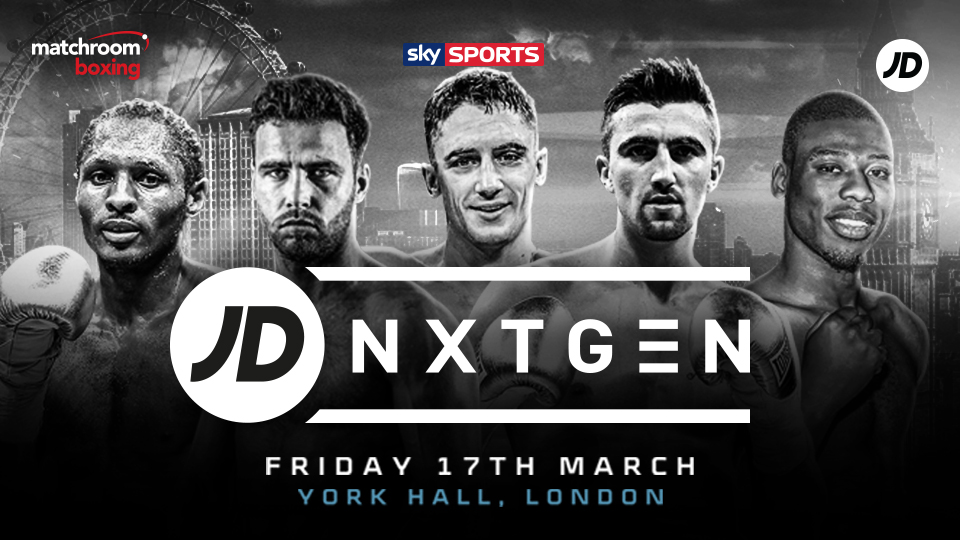 Building on their recent partnership announcement with Matchroom Boxing, leading sports fashion retailer JD has become the title partner of Matchroom's new NXTGEN series, which will now be known as JDNXTGEN launching on March 17th at York Hall, live on Sky Sports Facebook and Sky Sports 1.
Through the partnership JD will receive central in-ring branding as well as significant ringside branding on fight night and exclusive content from each event. The partnership is the next step for JD and Matchroom, who both have a desire to support the next generation of British boxing and support local communities.
The JDNXTGEN series is a new show from Matchroom, and has been designed to give young upcoming boxers a platform to showcase their talents, and the opportunity to headline their own events as they make their way to the top. The JDNXTGEN roadshow will see events in key JD cities throughout 2017 and will feature some of the upcoming JD sponsored Team GB stars including Lawrence Okolie, Josh Kelly and Joe Cordina. In what will be a historic year for British boxing, the JDNXTGEN shows will become a foundation for the sport's future champions, showcasing Matchroom's talented stable and giving the mainstream boxing audience an opportunity to see them in action.
JDNXTGEN launches on March 17 at Bethnal Green's historic York Hall. The East London card features some of Matchroom's brightest young stars and is headlined by an eliminator for the British Featherweight title, as Reece Bellotti faces Dai Davies. The bill also includes action from unbeaten Londoners Craig Richards and Alan Higgins, as well as Isaac Chamberlain. JD and Matchroom are expecting an electric atmosphere on the night, and fans who aren't able to attend can tune in live on Sky Sports Facebook and Sky Sports 1.
JD and Matchroom Boxing will be asking fight fans to decide during the evening who they think is the #JDUndisputed 'Fighter of the Night' via a social media poll – stay tuned to @JDsportsfashion on Twitter to cast your vote.
The title partnership was negotiated by global sports marketing agency SportQuake, who will also be activating JD's boxing campaigns throughout the partnership.
JD spokesman Stephen White said: "JD are extremely excited to align with the JDNXTGEN series as we build on our long-term partnership with Matchroom Boxing. We are particularly passionate about our customers and supporting local communities, and we look forward to seeing our brand alongside some of the future stars of British boxing, starting at York Hall on March 17th."
Managing Director of Matchroom Boxing, Eddie Hearn, said: "I'm delighted to welcome JD on board as the title sponsor for the NXTGEN series. We are always looking for partners who want to support from the bottom to the top and JD share our passion for this strategy and the development of our young stars. The JDNXTGEN series will produce relaxed and fast paced programming for fight fans and give the stars of tomorrow the chance to progress under the bright lights with significant TV exposure as they look to essentially graduate into Saturday Night Fight Night and PPV cards at some of the biggest venues in the World."
CEO of SportQuake, Matt House, said: "We love pioneering new formats of sport and think the JDNXTGEN series will be a big hit with fans, bringing the ingredients of a fast-paced slug fest format with a chance for these young stars to progress to the top of the sport with Matchroom Boxing. The JDNXTGEN series compliments the investment JD have made into the big high profile fights and fighters, and gives JD ownership of an event where we will create a really different environment and look and feel that we think fight fans, JD customers and JD partners will love. The JDNXTGEN series will be fully integrated across JD's retail and digital channels."