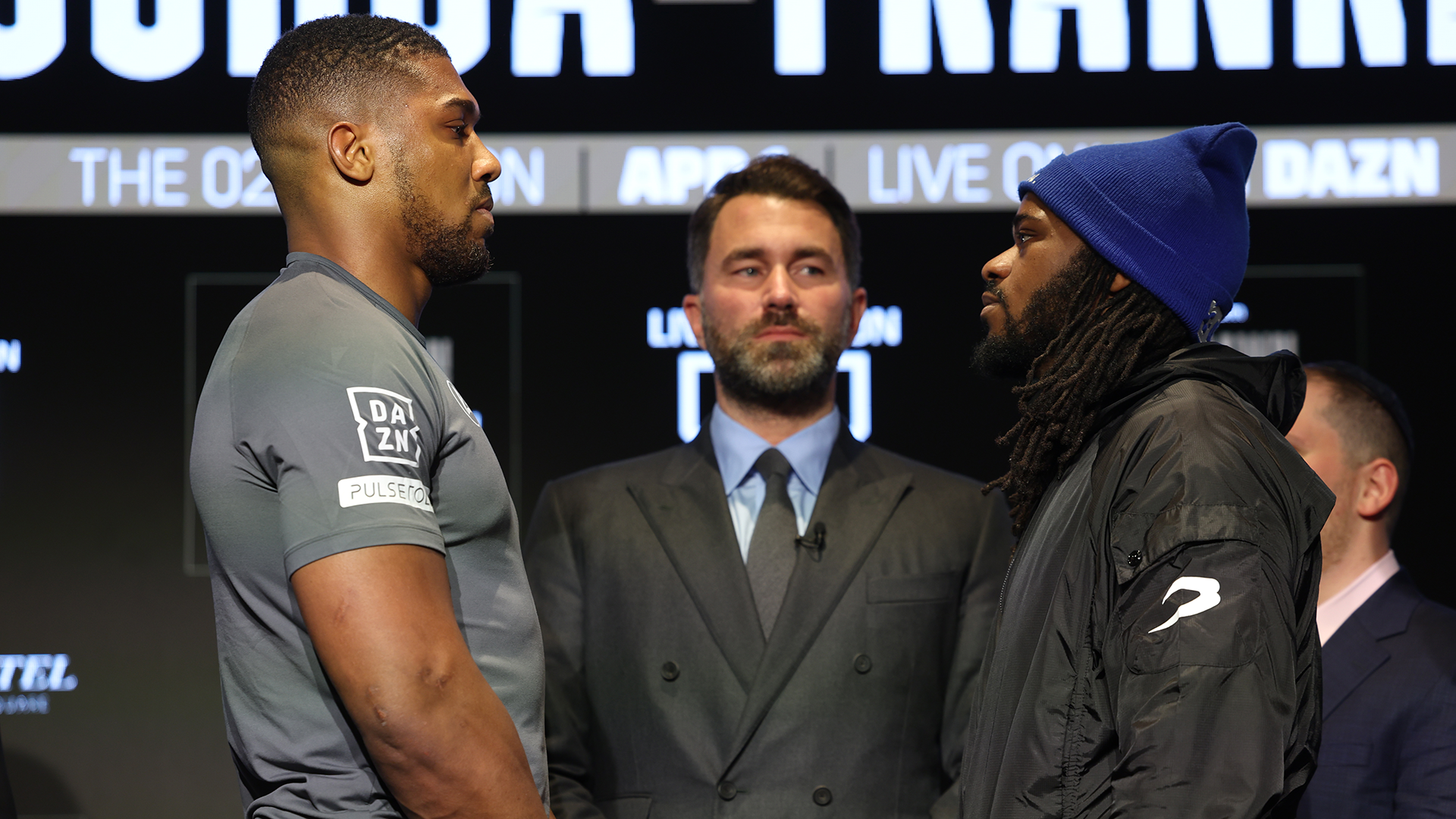 News
Joshua vs. Franklin Final Press Conference Quotes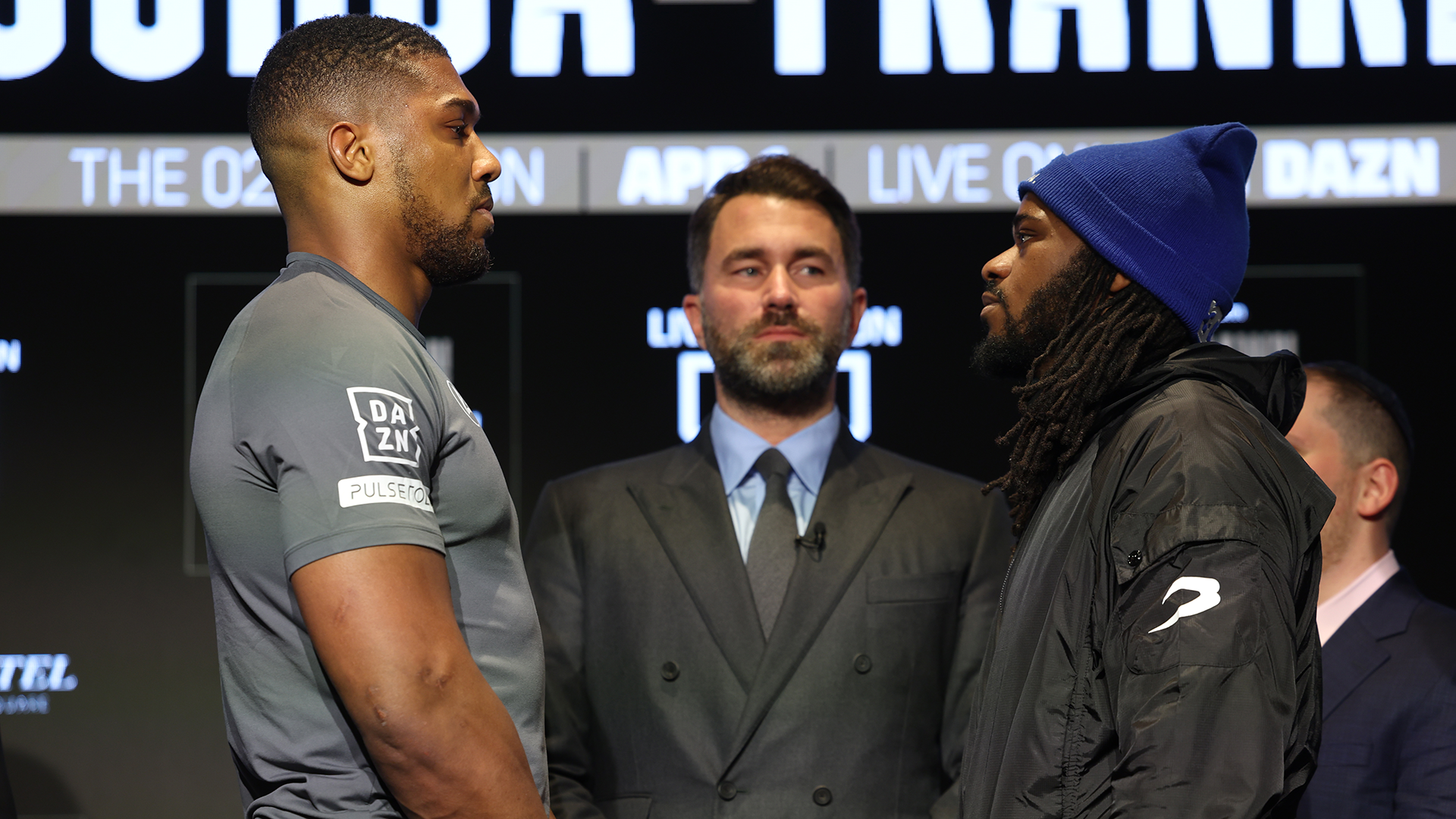 Main event quotes from London
Eddie Hearn, Matchroom Sport Chairman:
"Welcome back to London ahead of a huge night on Saturday night from The O2 Arena, the Lion's Den and the scene of so many great Anthony Joshua nights. We return there for perhaps one of the most important fights of his career. Anthony Joshua takes on Jermaine Franklin live and exclusive on DAZN around the world. We cannot wait for the return. It has been nearly ten years since Anthony Joshua turned professional, seven years since he last performed at The O2 Arena. We're just a couple of hundred of tickets away from a complete sell-out as we look forward to a great night of boxing, a great undercard and a big Heavyweight night for Anthony Joshua back at The O2. Of course this time around on DAZN. We're delighted to welcome Joe Markowski and the team, our global broadcast partner, as the growth continues in the US and in the UK. It is an unrivalled schedule and value for money for the customer. As always, the action is available on the iPhone, on the tablet, through the smart TV, but now of course via SKY channel 429, via Virgin and also in the pubs. It is what you have been asking for for so long as this platform continues to grow globally. It is a major night for DAZN this Saturday with the first fight of Anthony Joshua's new contract."
Anthony Joshua:
"It's big, it's massive. It's a big fight for me, for sure. I respect my opponent fully and respect everything he's been through and we're here to rock and roll. I respect my supporters as well so I have put in the work, I respect my coach as well so I want to make sure I get the job done in good finish. I like the fact you always dangle carrots in front of me, telling me if I do this, this is here and that's there always leading onto big things. I dream big and I want bigger and better things in my life. As I stated in the last press conference, I want to secure the bag and move on in my life.
"The goal is not to make it back to the corner, the goal is to take him out. I respect Derrick fully and I trust everything he's been saying. When you're a student of the game, there are certain times you can be on the same level as people you speak to about boxing but when I speak to Derrick and ask him certain questions, the knowledge he spits is phenomenal. The knowledge he gives me is really, really good. We're at a stage now where the physical side of the fight is done. Fight week you are still training because it's part of our nature, but the physical work is done and it's all about the knowledge. You just have to train your mind and honestly Derrick is up there with one of the best people I've spoke to about boxing. I appreciate his time, I appreciate the fact he took me on and I am looking forward to showing him he hasn't wasted his time by taking on this project.
"When you strip boxing back, it is very basic. A lot of it is down to self belief number one and just knowledge. You gain knowledge and apply it along the way. You fight with desire and then you can add some skills along the way. I was based in the Olympic gym in Sheffield for years. Obviously it's a big set up because you've got hundreds of fighters and international fighters coming in. In the world class boxing gym in Texas, there's a few of us pros just putting in the ground work. That is probably what you saw was difference is that I am not around hundreds of fighters in the gym. It is just three or four of us putting in the work. But when you disconnect from everything, which is hard to do in this day and because we're so connect, but I took myself away to disconnect myself and all the questions I have been asking myself, the answers came. It was quiet time and it has been a good camp. It is good to be back in the UK but everyone knows the UK is a little dead so I can't wait to get back to Texas and get back to putting in the work.
"It is the worst time. The more he talks, the bigger grave he digs for himself but it is what it is. I could say a lot of things about him but I respect my opponent. It is not for me to talk, it is for you to do all the talking and for me to do my job on Saturday. That is really honestly what I am focused on from round one to round 12. I am prepared for a 12-rounder but I do believe in my ability, my counter-punching and all that type of stuff to definitely put a dent in Jermaine. But I am not here to talk, I am here to do what I have to do because I really want to win.
"Yeah, that is personal and to show my coach that I respect the time he has put in with me. In terms of entertaining, we don't play boxing, but at the same time people from years back and the empires, they love people coming together and fighting. There will be entertainment regardless. I think we will see blood and I just really look forward to getting in there again. I'm so happy I'm fighting again because when you look at the champions now, it is just a shambles when you are trying to compete with mandatories and negotiations, honestly I can't believe no fights have been made at championship level. I am so happy I can get back to work, get on with my job and I am looking forward to this assignment. I can't wait honestly. I am really looking forward to it."
"I will come out, do this, do that. As he said, it is by any means necessary. We are just here to do a job. I respect my opponent and may the best man win. One thing he said is he started eating right for this camp, he's dealing with someone who has been living right from the get go. I have been putting in work from the day I started this business. It's going to be a good fight because he's up against a real one, for sure."
Derrick James:
"First of all I'm happy to be here, and I think that I've learnt a lot about Anthony from his dedication and the fact that he is always a student and always wants more. This Saturday we will show everything that we have been working on. I think that Jermaine Franklin is a very tough fighter. I really don't care how we get the win; I just care that we get it. If it gets to a point where I can see it, then let's go get it. Initially he's just going in there and it's all about winning the fight. Regardless of how he wins, I don't care about that. I just care that he comes out victorious. If I see the knockout then let's go take him. I'm excited to be here. This is my first fight as a Heavyweight trainer. We're coming over to the UK and everyone has been very receptive and very nice. It's all about the focus and all about how much he's dedicated and sacrificed to be here. He sacrificed the comfort of the UK to come to Dallas. Even in the winter time it is hot. You sacrifice. That's what it Is all about. Everybody is working hard. Everybody is pushing hard. It is about what you're willing to give up to be successful, because everybody is working hard, but not everybody is willing to give up something. AJ was willing to sacrifice something and you're going to see how that pays off on Saturday."
Jermaine Franklin:
"First off, I want to say it is an honour to be back in the UK. I appreciate the opportunity. In the beginning I've just been on a little health journey. I changed my eating habits and changed stuff that I was consuming. My body weight just started falling off. We had more time to prepare for this fight so I'm more ready and I'm more in shape. I'm just ready to let the fireworks go. I'm just a huge fan of the sport. I watch a lot of boxing. I watched AJ fights way before we even had this opportunity or thought it was possible. I'm just a huge fan of the sport. My confidence is always great. I think you're in the wrong business if you don't truly believe in yourself – this is not the right game for you. You always have to have the extreme upmost confidence in yourself and you just have to put your faith in the work that's gone on behind it. I'm going to get the win by any means possible. But if I can put him on his ass then that's what I'm going to try to do. Anything is possible. I come from a place with not a lot of possibilities, and I made it this far so anything is possible. My passion for the sport, my team and my family; that's all the motivation I need. I believe my hands get raised at the end of the fight."
Jesse Addison:
"I come here with even more confidence. We went to training camp in Florida, we had a very nice training camp. I got a chance to do things with him that I wanted to do, the way that I knew was best for Jermaine. We put a lot of assignments out in front of him and he passed every assignment, so now we're just looking to past the big test this Saturday. Hard work is the key to victory on Saturday. He has worked very hard, he has worked extremely hard. Like I say, we went to Florida, we dug down real deep. We trained in the morning, we trained in the evening. We trained at night. We didn't rest. We just trained trained trained. Jermaine is ready, he's ready for this fight. This is something that I prepared him for. I told him that one day he would be up against Anthony Joshua, Deontay Wilder, Tyson Fury, and so now that plan is becoming a reality. At any given time a fighter gets in the ring, he's there for the taking. I respect everything Anthony Joshua has accomplished as a fighter, he's a great fighter. I don't feel like that if he loses this fight his career is over. You know, that's just this new era of boxing. Back when Muhammad Ali and George Foreman and Joe Frazier, them guys were losing fights on the regular, but they would come right back and they would fight for a world Championship, and I think that's where we're going back to now because we've got so many gifted Heavyweights out there. When Jermaine gets in there with him this Saturday night he will suffer a loss. I see my man winning. I see my man winning the fight. If we win by knockout, we'll win the fight. If we go to a decision, he'll win the fight. As far as Anthony Joshua being a big man, we don't worry about that. Jermaine has been fighting big men his whole career. Going through the amateurs we were fighting guys who were 6'6" plus regularly. He was the shortest man in the division. We're well prepared for this."
Dmirty Salita:
"We're very grateful for the opportunity and always love being in England for big fights. I'm very grateful and honoured. As Muhammad Ali used to say, 'the will has to be bigger than the skill'. And in this fight, Jermaine's skill is going to be bigger than Anthony Joshua's skill. Anthony Joshua is a great fighter and someone that I look up to and admired for many many years, and still admire. He is a great fighter. The show is appropriately called New Dawn and new day, because a new day is coming for Jermaine Franlkin. I've seen him train in Florida several weeks ago. He looks in incredible shape. His trainer for many many years Jesse is going to be in his corner and they had a great camp. We're looking forward to a big upset. I believe that as fighters we have four things that drive us; so Anthony Joshua is a World Champion, made tremendous pay days, is a celebrity, great fighter, he's accomplished everything, in the ring when you're faced with a feeling of being uncomfortable you think about all of these forces that drive you, and Anthony Joshua has accomplished all of these things. Jermaine Franklin is a hungry fighter who has the skills and the potential to accomplish this and every day of his training camp and of his life he's been dreaming of this moment. I believe that Anthony at this stage of his career has to think about it, has to have his trainer motivate him and has to have a sports psychologist. Jermaine on the other hand is internally motivated from the time he gets up until the time he goes to sleep. His dreams are of winning this fight and I believe when Jermaine is going to make Joshua uncomfortable those are our keys to victory."
Joseph Markowski:
"Thank you Eddie and thank you to all of the media for being here today. As you say it is a huge night for us and part of a huge schedule this Spring in the UK and around the world. Several homecomings, Canelo's homecoming on May 6th, Katie Taylor's homecoming in Ireland on May 20th and of course AJ's homecoming at The O2 in London this weekend. Having worked with AJ for several years now around the world we are delighted and very proud to be the exclusive broadcaster in the UK for AJ's career and for this fight this Saturday night. You've talked about our increased distribution and we're extremely excited about making this content available via DAZN to anyone on any screen. We're extremely excited about what Saturday night brings and what it means for AJ's career, what it means for our business and what it means for our partnership with Matchroom. We're looking forward to Saturday night. We're going to keep on investing in the best boxing schedule we can deliver but this weekend is all about AJ, it is all about delivering value to our customers, the fight is available in the UK within your subscription. We're tremendously excited and very proud and looking forward to a big night on Saturday night."