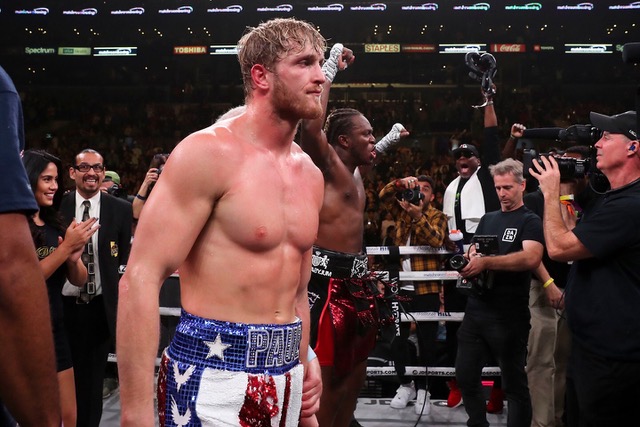 News
Ksi Wins Controversial Thriller Against Logan Paul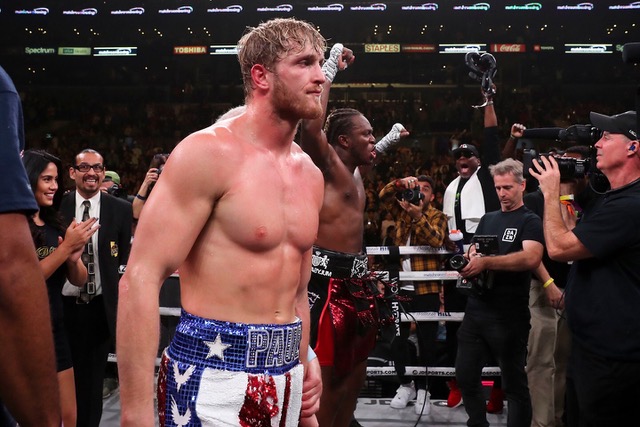 KSI won a thrilling and controversial rematch with fellow YouTube star Logan Paul at the STAPLES Center in Los Angeles on Saturday night, live on DAZN in the US, Sky Sports Box Office in the UK and distributed globally on FITE.
The two internet phenoms met for the second time following a draw in their white-collar clash in Manchester in August 2018, and this time in the rematch, the headguards were taken off as the bitter rivals made their pro debuts against each other.
A tense and fractious build-up, which included exchanges between both the fighters and their camps throughout fight week, came to the boil in front of a huge crowd in downtown LA, and the thousands in attendance and millions watching around the world were treated to an all-out war between the pair.
Briton KSI started the stronger, launching and connecting with several overhand rights on the taller Paul, rocking the American more than once – but after taking control of the opening half of the six round bout, the second half started with dramatic controversy.
Into the final minute of the fourth, Paul rocked KSI with a pair of right uppercuts but as KSI fell to the canvas, Paul hit him on the back of the head – causing Paul to lose two points in the round that would have been a 10-8 round and could have turned the tide in his favor.
KSI was given time to recover by referee Jack Reiss and Paul was unable to capitalize in the final two rounds, with the packed crowd on their feet in the final stages as both men poured everything out of themselves until the final bell.
With cards of 56-55 for Logan Paul and 57-54 for KSI, it all hinged on the final card that hall of fame MC Michael Buffer read out, 56-55 in favor of – KSI. As the celebrations died down and both fighters were interviewed in the ring, the bad blood turned to respect, and the feud ended in shaken hands followed by an embrace – but the winner ruled out a third fight.
"No, it's done, it's done, I'm on to the next thing," insisted KSI, when asked whether the pair would meet again in the ring. KSI last time was scared, I was scared to fight. I was scared to touch him; I was scared to touch him. This time I just went in, this time I just kept going.
"He hit me hard and hit me on the back of the head, it was outrageous, but it is what is. The boy is happy, the boy's victorious, happy days.
"It took me about a minute, a minute or two just to figure out how I was and then I came back at, I kept on going. That's boxing, I didn't want to stop. I didn't want people to think 'he can't take punches, he's weak, he's not a fighter'. I am a fighter; I keep going and that's it.
"We've got to have some respect tonight. It takes a big man to get in the ring and you're a big man. You made me work today and you made me work last year as well. Thank you for a good fight, bro."
Paul took the defeat with good grace but bemoaned his lack of composure in the pivotal moment in the fourth round, and felt the referee dealt with the incident harshly.
"I let emotions get the best of me man," said Paul. "I will say, no warning, and I got two points taken away from me, and that's why I think I lost tonight. I think if you do the math, the two points that I had taken away from me was the reason I lost tonight. I would love to contest the commission, because I think I should have got a warning.
"I was calmer this year. We worked on my conditioning. The more I practice being in here, the more comfortable I get. Boxing is a weird type of earned conditioning, and that's all it was.
"I'll be back. I'm coming for the commission on that. I don't think that was fair at all."
A stacked undercard saw two World champions defend their titles.
Devin Haney was making the first defense of his WBC Lightweight crown and delivered a commanding shut-out of unbeaten challenger Alfredo Santiago. Haney, who was elevated to full champion after winning the interim title in New York in September, punctuated his victory in the fifth round with a knockdown of the Dominican challenger, and after three scorecards of 120-107 were read out, Haney set his focus on big fights in 2020.
"I want all the top guys in 2020, any of the belt-holders," said Haney. "I'll fight Lomachenko, or Ryan Garcia is a big fight.
"I'm just going to take a rest for a little bit. I want to start 2020 with a bang. I want the best fights, the best fighters out there. I want to show the world I can beat the best."
"He showed me a little surprise in how crafty he was. How he was able to survive, how he was able to hold on. I hurt him early, hurt him a few times as the fight went on. He would hold, clinch, tie up, many different things. It's all part of the game.
"I think I dislocated my shoulder in there, but I showed I'm a true champion. It's more experience for me, on to the next. I got my win. I'm the youngest champion in boxing. I'm blessed."
Billy Joe Saunders was made to work in his WBO Super-Middleweight title defense but retained his title in style against stiff opposition in Marcelo Coceres. Saunders was making the first defense of his 168lb belt having previously held the WBO crown at Middleweight, but the Brit was made to work hard by the Argentine challenger who was ahead on one scorecard when Saunders put him down early in the 11th round before delivering a thunderous uppercut to fell Coceres again.
The challenger gamely beat the count and rose to his feet, but Saunders refused to let him off the hook, putting him down once more to end the contest. The unbeaten 30 year old was disappointed by his debut, later revealing he'd been suffering from flu in fight week, but showed a champions heart to remain undefeated, with a message to a Mexican superstar added to his
"There's no excuses," said Saunders. "I knew from round nine I have to get this man out of here.
"I wanted to impress the American crowd and I hope you enjoyed the knockout, that's all I could give you tonight.
"I knew to stay calm, people might have said 'he's taking this a bit slow' but I knew I had to turn it up at some point. I could see he was wearing down; I was making him miss and then I was trying to find that looping left hand over the top. Once he went down, I knew that was it.
"Canelo – take me while you think I am spent. Take me now."
Ronny Rios continued his impressive winning streak with a fourth round KO of Hugo Berrio. Rios was defending the WBA Gold Super-Bantamweight title he ripped from Diego De La Hoya in July and will now be hunting bigger titles in 2020 after a powerful display.
There were KO wins on the card for Reshat Mati and Diego Pacheco but Nikita Ababiy's night ended in controversial circumstance. Ababiy was hunting an eighth win as a pro and faced Jonathan Batista in front of a huge crowd just before the main event and put Batista down inside the closing minute of the opening round. Ababiy went in for the kill and put Batista down again but the referee ruled that it was a punch to the back of the head and took a point from the Brooklynite.
After Batista labored to his feet, the remaining seconds of the round were played out before Batista swung at Ababiy after the final bell and was disqualified.
Another debutant on the bill had double cause for celebration. Josh Brueckner made his bow in the ring with a shutout four round win over Tyler Smith, and then popped the question to fellow Instagram star Katie Betzing – who said yes!