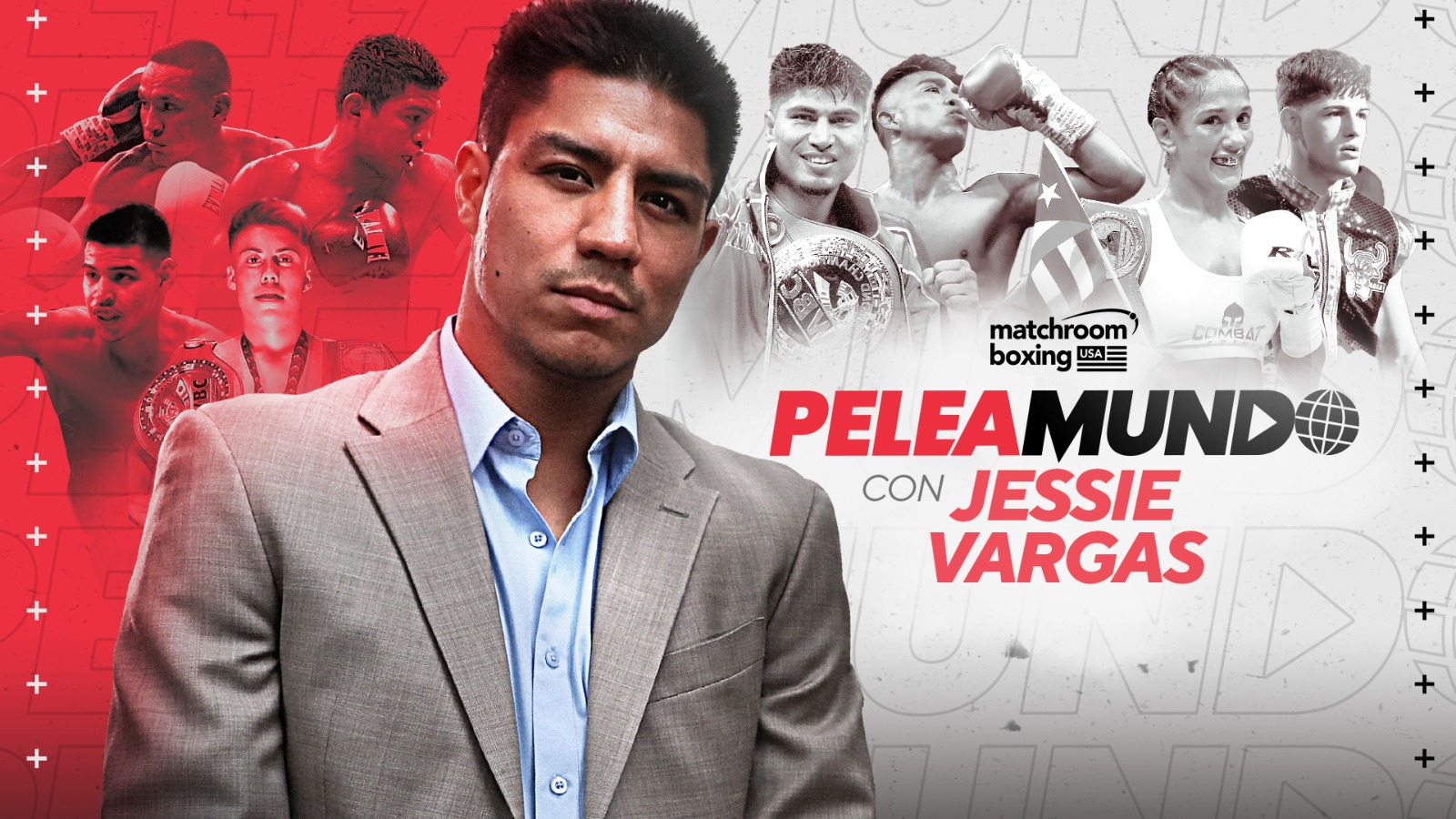 News
Matchroom Boxing Usa To Launch Spanish Content Series 'peleamundo'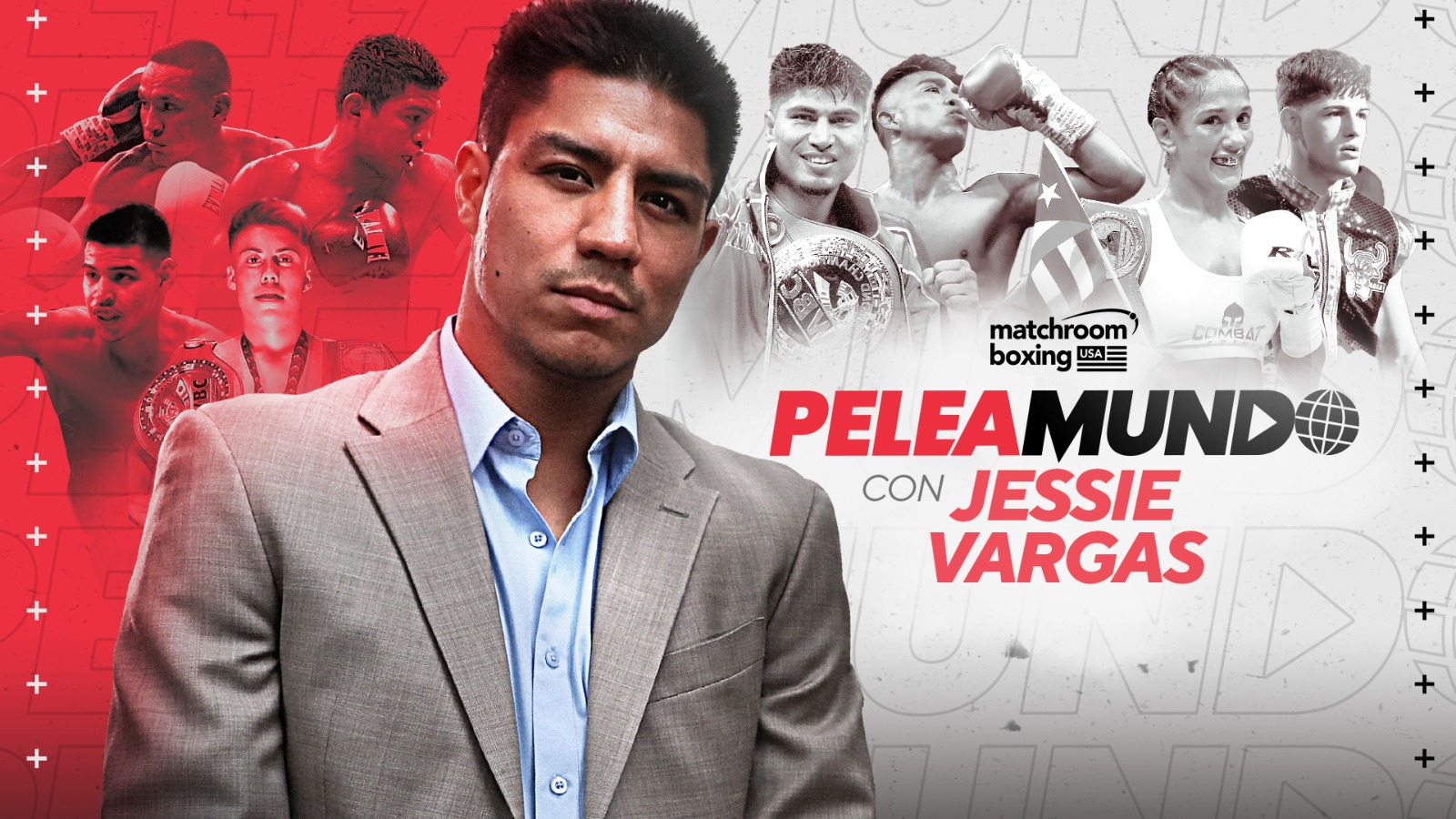 Former two-weight king Jessie Vargas will front exclusive interview and behind the scenes boxing show to launch Matchroom's exclusive Spanish language content service
Matchroom Boxing USA are delighted to announce the imminent launch of its exclusive Spanish content series 'Peleamundo'.
Fronted by former two-weight World champion Jessie Vargas and aired on Matchroom Boxing's YouTube channel, 'Peleamundo' will feature Vargas interviewing the biggest Hispanic fighters in the Matchroom Boxing USA stable, from World champions Juan Francisco Estrada, Julio Cesar Martinez, Roman 'Chocolatito' Gonzalez and Amanda Serrano, to rising stars Diego Pacheco, Alexis Espino and Marc Castro.
Vargas will also invite legends of the sport to speak to him, cast his net far and wide to chat to boxing-mad sports stars and celebrities, and will interact with fight fans on the show with his #AskJessie section.
The show is set to launch next weekend and will lead up to a bumper edition for Cinco de Mayo weekend. Vargas will also take the show on the road at Matchroom Boxing USA shows across the U.S. and Mexico when boxing returns.
"I am so excited to be part of this new series 'Peleamundo' with Matchroom Boxing USA," said Vargas. "There is a wealth of elite level and rising Hispanic fighters in the Matchroom Boxing USA stable and the Latino fight fans are some of the most knowledgeable and passionate followers of our great sport, I can't wait to bring them exclusive interviews with their favorite fighters and also get the fans on the show to answer the questions they have.
"As the show develops, I hope to be talking to some of the real greats of the game and my favorite fighters, as well as going behind the scenes at Matchroom Boxing USA shows – it's going to be a blast!"
"I am delighted to bring 'Peleamundo' to the Hispanic fight fans," said promoter Eddie Hearn. "There are so many fantastic fighters with a Latin flavor and I am sure that we will create some fantastic exclusive content with both the launch interviews with some of the biggest names in the game and when Jessie hits the road at our shows.
"Not only will we hear from current World champions like Juan Francisco Estrada, Roman 'Chocolatito' Gonzalez and Julio Cesar Martinez, but it is also a brilliant opportunity to introduce our young fighters like Diego Pacheco, Alexis Espino and Marc Castro to a new audience."
---
MATCHROOM BOXING USA LANZARÁ UNA SERIE DE CONTENIDO EN ESPAÑOL  'PELEAMUNDO'
El ex rey de dos pesos Jessie Vargas se encargará de tener entrevistas exclusivas y el detrás de las escenas del programa de boxeo para lanzar el servicio exclusivo de contenido en español de Matchroom
Matchroom Boxing USA está feliz de anunciar el inminente lanzamiento de su exclusiva serie de contenidos en español 'Peleamundo'.
Dirigido por el ex campeón mundial de dos pesos Jessie Vargas, se emitió en el canal de YouTube de Matchroom Boxing 'Peleamundo', una entrevista con Vargas y los boxeadores hispanos más grandes de Matchroom Boxing USA, donde participaron los campeones mundiales Juan Francisco Estrada, Julio Cesar Martínez, Roman 'Chocolatito' Gonzalez y Amanda Serrano, y las próximas estrellas Diego Pacheco, Alexis Espino y Marc Castro.
Vargas también hablara con leyendas del deporte, usando sus conexiones para charlar con estrellas y celebridades que son fanáticos del deporte, e interactuará con ellos en la sección de 'AskJessie.
El espectáculo se lanzará el próximo fin de semana y dará lugar a una edición de empuje para el fin de semana del Cinco de Mayo. Vargas también hará el espectáculo en la carretera en los shows de Matchroom Boxing USA a través de los Estados Unidos y México cuando regrese el boxeo.
"Estoy muy emocionado de ser parte de esta nueva serie 'Peleamundo' con Matchroom Boxing USA", dijo Vargas. "Hay una gran cantidad de boxeadores hispanos de nivel élite y en ascenso en Matchroom Boxing USA. Los fanáticos latinos son algunos de los seguidores más conocedores y apasionados de nuestro gran deporte, y no veo la hora de traerles entrevistas exclusivas con sus boxeadores favoritos y también conseguir que los fans en el programa respondan a las preguntas que tienen.
"A medida que el espectáculo se desarrolle, espero poder hablar con algunos de los grandes del deporte y mis boxeadores favoritos, ¡así como detrás de las escenas en los espectáculos de Matchroom Boxing – va a ser explosivo!"
"Estoy encantado de traer 'Peleamundo' a los fanáticos hispanos de boxeo", dijo el promotor Eddie Hearn. "Hay muchos boxeadores imponentes con un sabor latino y estoy seguro de que crearemos un contenido exclusivo y fantástico con las entrevistas de lanzamiento con algunos de los personajes más conocidos del juego, y también con la salida de Jessie a la carretera en nuestros espectáculos.
"No sólo escucharemos a los actuales campeones del mundo como Juan Francisco Estrada, Roman 'Chocolatito' González y Julio Cesar Martínez, sino que también es una excelente oportunidad para presentar a nuestros jóvenes boxeadores como Diego Pacheco, Alexis Espino y Marc Castro a una nueva audiencia."