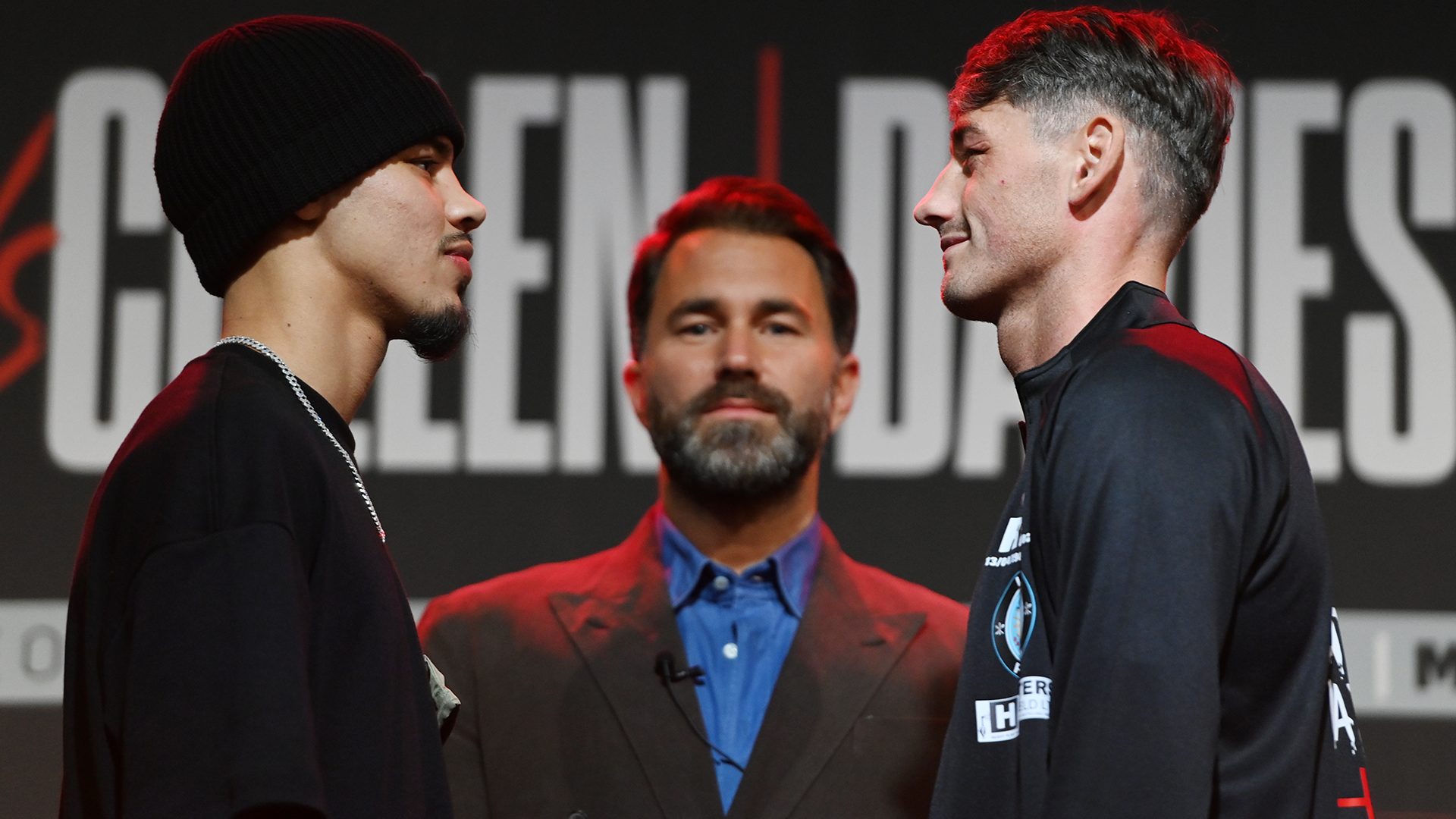 News
Pacheco vs. Cullen Final Press Conference Quotes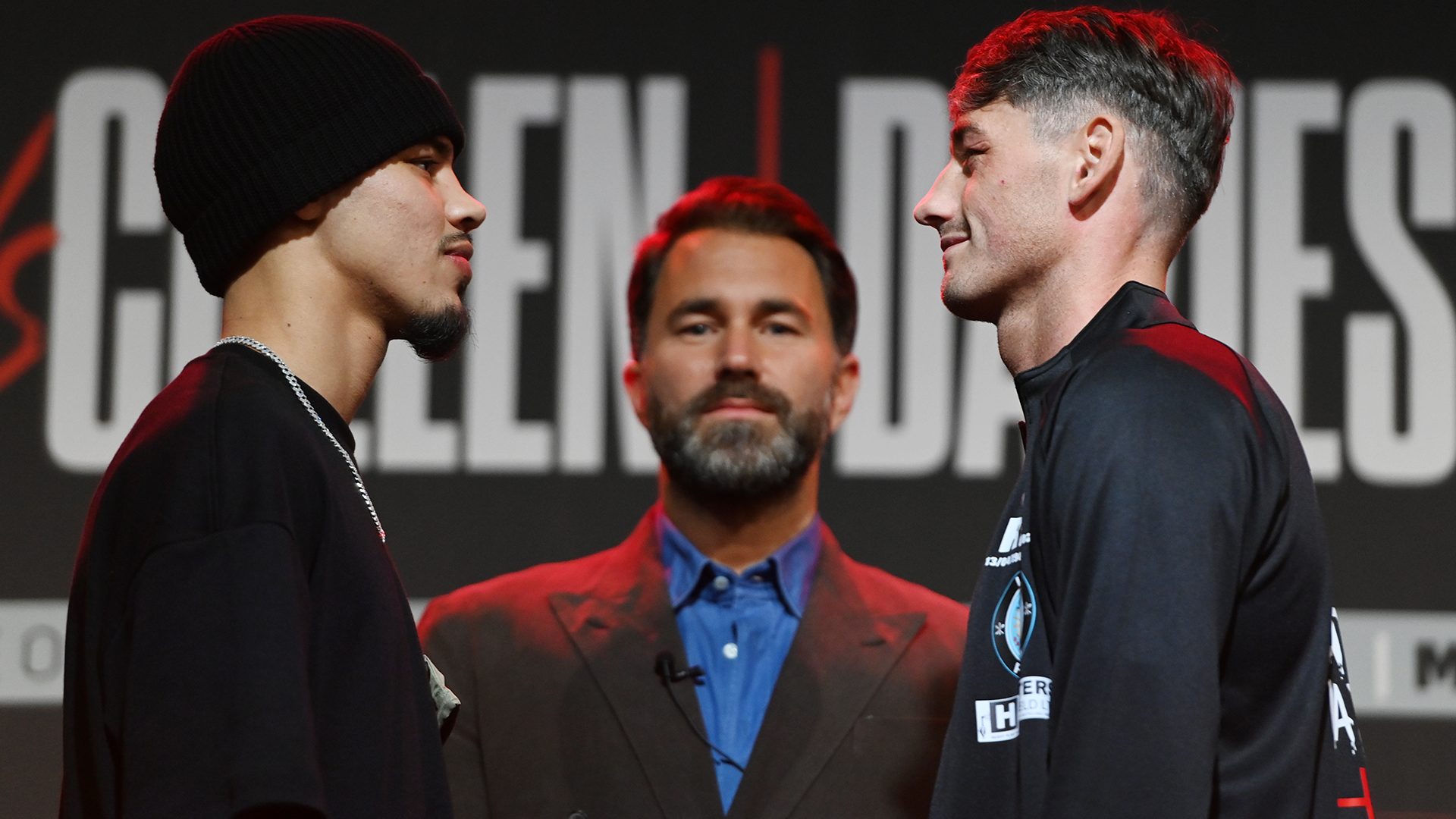 Eddie Hearn, Matchroom Sport Chairman:
"Good afternoon everyone, welcome to Liverpool ahead of a big card this Saturday at the M&S Bank Arena Liverpool, live and exclusive on DAZN around the world. Three press conferences for you here today, Before The Bell we start with as we introduce the fighters up here on the stage: George Liddard, James McCarthy, Dean Dodge, Aqib Fiaz, Paddy Lacey and Campbell Hatton. Important fights for all of them – big support for all of them as well as we go into a card co-headlined if you like between Diego Pacheco, one of our biggest stars in world boxing 17-0 against Jack Cullen, Robbie Davies Jr in a big fight against Darragh Foley as well. Rhiannon Dixon goes for the Commonwealth Title, Peter McGrail in my opinion one of the best prospects in world boxing steps up and of course Johnny Fisher brings a huge army of support up from Essex and around the country for a big crowd on Saturday night."
Diego Pacheco:
"I'm just really happy to be here and I'm thankful for the opportunity now I get to headline. It's unfortunate what happened to Callum Smith but I'm just thankful that the show is going on and I'm the one on top. I'm excited for Saturday and I'm looking forward to a great night of fighting. I started off at 17-years-old – it doesn't feel like it's been 5 years. I feel like I've learnt a lot in these 5 years and I feel it's the perfect time to face a guy like Jack Cullen and after this move onto bigger fights. I know it's going to be a great fight, I'm looking forward to the experience. Everyone tune in and enjoy the show."
Jack Cullen:
"Yeah definitely, 100% mate. I put everything into this training camp. I've left no stone unturned. I've done everything right and you'll see on fight night. I have plenty of experience, big bollocks and I want to fight. I've put everything into my training. This is my life and I want to keep this going. Stick to the game plan and we'll get him out of there."
Robbie Davies Jr:
"My past few fights have all been must-wins for me. Obviously it was unfortunate with Liam Paro pulling out but I was thankful for Foley for stepping up. He still gives me a chance to show the general public, the Liverpool fans, what I'm about. Get the win in dominating fashion and then move onto bigger things later in the year. He's seen cracks in me, I can't have that going into the big fish. I need to make a statement and not only win, I need to look good as well when doing it. Hopefully I can break him down, get to him and get him out of there."
Darragh Foley:
"I'm glad you got my name right there Eddie. I got an interview sent to me earlier in the week and I was Darryl Foley from Liverpool. You'll know exactly who I am on Saturday night mate. And the belt, what's going on with the belt situation? We'll have a talk after. Everything in life is about timing. This opportunity came out of the blue and I was ready – I stay in shape. It's perfect, like you say, I win this and everything opens up. I'm coming here to win. Any interview where I get asked about three weeks' notice, stop saying that, any interview after this if you mention three weeks I'm walking away. That's a built-in excuse. I don't need an excuse. I'm here to win and that's that. You see what you get with Robbie, a tough that comes, that brings. He likes to bury his head in your chest and go to work. And that's fine, I never shy away from a fire fight. At least I won't have to go looking for him."
Peter McGrail:
"First of all I want to thank you, Frank and the team behind the scenes for getting me back here. I feel like with Matchroom behind me, the team I've got, my coaches Paul and Anthony, all I can see is success. I'm on board now with one of the best promoters in the world and an amazing team. He's a good step up and he's a good fighter. I respect him, I respect any fighter but I don't think he's on my level Ed. We know what the nights are like in the Echo, they're special nights. Even my debut when Beefy boxed Fowler – it was amazing. I'm just excited Ed."
Nicolas Nahuel Botelli:
"Thank you for the opportunity Matchroom. We've put in the hard work now and we're convinced and clear that we're going to take this win home to Argentina. We have come really prepared for war, but I'm sure he has too because that's the game we're in. We're here to show that all of our hard work will pay off on Saturday night."
Johnny Fisher:
"Thank you for having me and thank you to the city of Liverpool for welcoming me – I've had a really good welcome here. It's great to be here. As long as Alfonso Damiani turns up on Saturday night that's all that matters. I know he's a proud man, very fit. He's going to come to have a fight. My first 8 rounder. It's another little step on that journey. The picture is becoming a little bit clearer, every time I get a little bit more mature and I've just got to keep on ticking those boxes. One thing I would like to say to my supporters, the people who have paid their hard-earned money, not only to come and watch but they've got to pay for their train tickets and their hotels, it's really great and it inspires me that there's people that want to come and watch me and support me. I've got to get through the 8 rounders first. We can see those titles on the horizon. The only thing that matters is winning on Saturday night with a good performance. We can map it out from there."
Rhiannon Dixon:
"When we were given the opportunity we thought, 'yeah let's just take it'. We didn't know if we were going to get another opportunity like this so thank you for that. I just think we've prepared throughout this camp and we're ready now to start pushing on to big fights like this. I'm really excited for the weekend. I always say it's like having a good dance partner with boxing. Sometimes you can be dragged down to people's levels. Vicky is a really good fighter and I think she will bring the best out in me on the weekend. I'm just taking each fight as it comes. I'm learning with every single one. You can see the progression from my first fight in Manchester to when I was last out. I'm just taking each fight as it comes and trying to learn and progress as much as I can."
Vicky Wilkinson:
"It's a great opportunity for me and I appreciate you giving me this opportunity. It's one of those things that I didn't think would happen. I do think it's a 50/50 fight. I have got amateur background, I know Dixon hasn't but she's got a great team behind her who have given her experiences that I haven't had as well. I think it's 50/50 all the way. It's growing. It's going to take time for women's boxing to be as big as men's boxing but I think we're getting more opportunities now because of people like yourself who will have us on your shows. For women's boxing this is just brilliant. I think it will be a really good fight because we've both got different styles."
Aqib Fiaz:
"Thank you for the opportunity Eddie. Out here in Liverpool on a big show – thank you for keeping the show on. I'm just ready to go on Saturday. I was born to do this and on Saturday I get a chance to show everyone what I'm really about. For the first time in my career I feel like I've got a plan and certain goals in place. Last time was my best performance through being active in the ring. I feel like on Saturday I'll be even better. It's a proper fight, fighting an Englishman as well. They always come to fight, but I've done it before Eddie – millions of times. I've been fighting my whole life and I was born to do this. I'm ready."
Dean Dodge:
"Thank you for having me on a Matchroom show. Thank you to my manager Errol Johnson for getting me on. This is going to be a real good fight and it's not one to be missed. Win this fight and it's going to change my career. I look forward to Saturday."
Paddy Lacey:
"When you had me on the Benn vs. Algieri card I was in the gym at 7 in the morning, fitting flooring in the afternoon, Chester training at night. I actually missed a Chester game to box that night. I've packed in the football unfortunately – gutted to pack it in but I'm fully focused on boxing now. I think it will make a massive difference going forwards. I'm living the boxing life now and not getting pulled from here to there. I think everyone likes the story of the underdog. Things kind of fell apart. I picked myself up and had a go at something else. This city is amazing for us. Thanks Eddie for keeping the show on after Callum got injured. We'll all get paid now. James doesn't shy away from a fight. He's a tough kid. It's going to be fireworks Saturday night."
James McCarthy:
"I'm more than proud to be on this show. Obviously it's in the Echo Arena, M&S to anyone that doesn't know, and it's against Paddy Lacey. Paddy is from the same area as me so half of his army know me as well. It's going to be a good interesting fight and I believe that both of us are going to put on a good performance. It's not a fight to be missed. I'm looking forward to it. Of course I fancy it, I wouldn't have taken the fight if I didn't fancy it. I'm not coming for a pay day and I'm not coming to get beat. I know he's a fit kid, he's tall and rangey. He's a good fighter but I'm coming to fight as well. I'm not coming to just give him an easy day."
Campbell Hatton:
"It's another city ticked off the list of places that I've wanted to box in. I was here watching Benn vs. Algieri and it was a top atmosphere. I was really welcomed by everyone and excited to box here myself and now I am. I've been on a little tour all over; Abu Dhabi, boxed in Spain twice and up and down the country. I'm really excited for Saturday. When you look back it has been crazy, even in Gibraltar being stuck on a boat. It's all been a surreal experience. I think it's going to stand me in good stead. I'm starting to find my feet now. I'm settling down into my career where I'm taking that pressure off myself now bit by bit and I'm starting to show those improvements. I want to show more of the same in 2023 – improvements. I've been maturing – physically and mentally. It's time to start kicking on now."
George Liddard:
"I'm really excited. I'm looking forward to putting on another good performance. Like you say, Johnny (Fisher) bringing all the fans up from Essex is quality. I want to go on to do big things but I know there's boxes I've got to tick off on the way and I've got to keep on proving myself. I definitely believe I will down the line. Being around such experienced fighters is only going to bring me on. I've got a promising future."
Limited remaining tickets for Pacheco vs. Cullen can be purchased via Stage Front and the M&S Bank Arena.