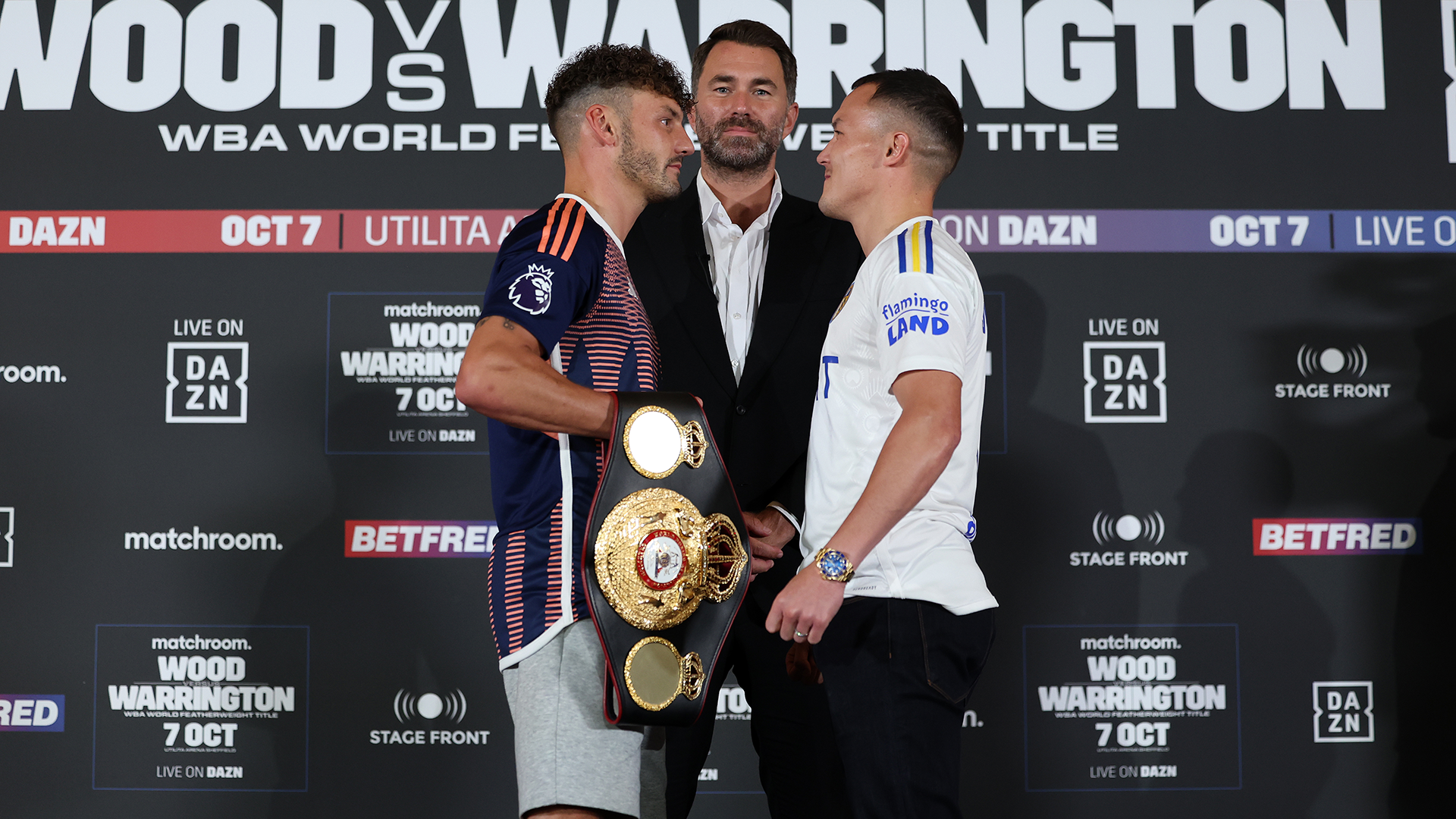 News
Wood vs. Warrington Press Tour Quotes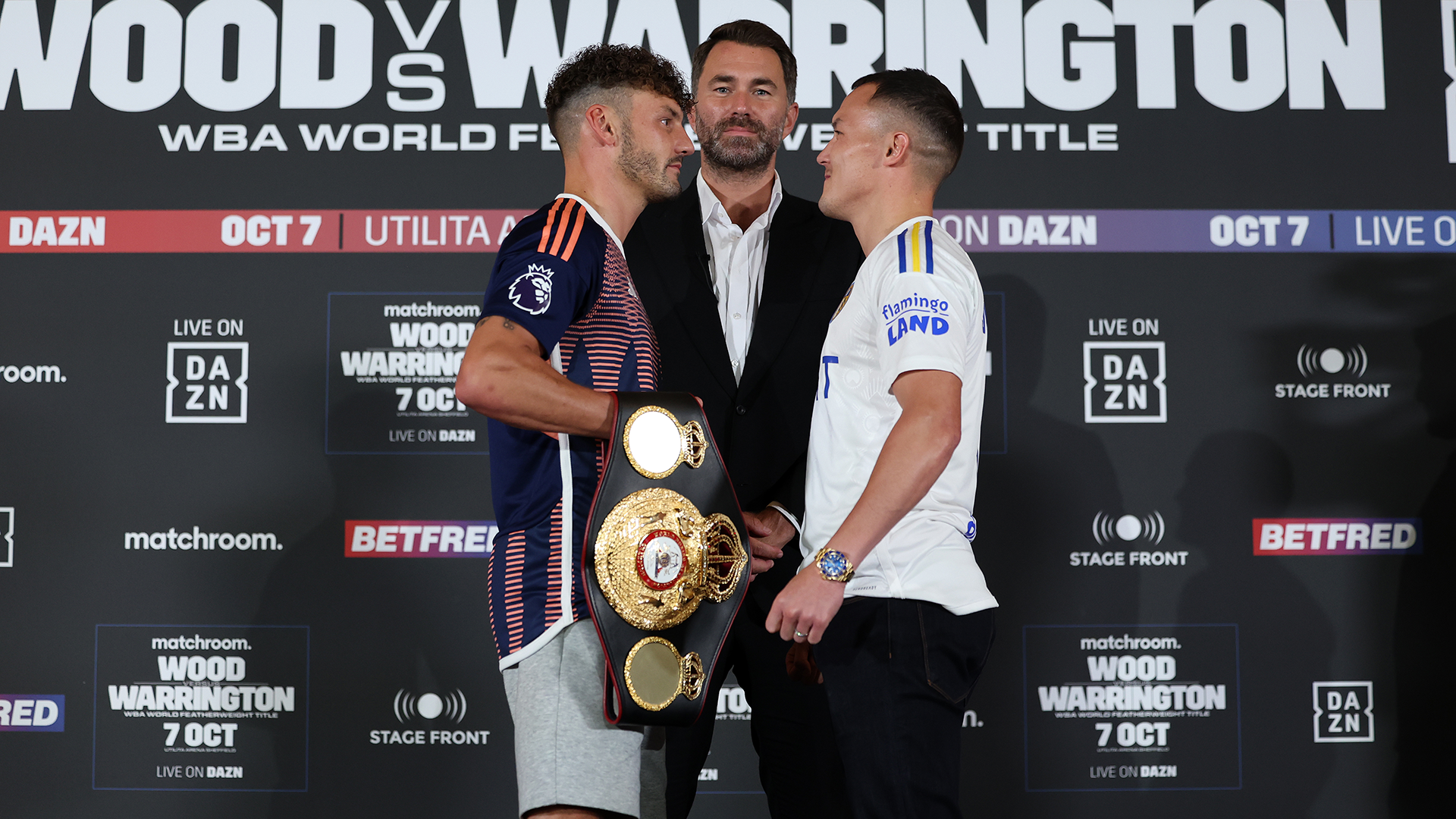 Nottingham vs. Leeds Featherweight clash lands at Utilita Arena Sheffield
Two tribes are ready for war as Leigh Wood and Josh Warrington traded verbal blows ahead of their WBA Featherweight World Title showdown in Sheffield on Saturday October 7 – live worldwide on DAZN.
The pair embarked on a 100-mile round trip to promote their blockbuster domestic bout, starting with a press conference in challenger Warrington's hometown Leeds before a photo pit stop at Sheffield's Utilita Arena in Sheffield and then culminating with a Q&A in front of champion Wood's fans in his beloved city of Nottingham.
For videos and interviews from today, go to Matchroom Boxing's YouTube channel and on Twitter, Facebook and Instagram.
Leigh Wood:
"In the Lara rematch I felt sharp in between my ears and physically. I feel those fights, with tiny little breaks while still training, has put me in a good position.
"I've got my girls with me and I'm taking them on training camp with me tomorrow as well. I've got my boxer and parenting head on.
"Obviously I wanted this fight to happen at the City Ground. That was my dream – and still is. That being said, we are meeting halfway in Sheffield, at the Utilita Arena, and it is going to make for an unbelievable atmosphere with a 50/50 split down the arena.
"I've done that before, of course, when I fought Michael Conlan. The walkouts then were something special and, of course, this time we've both got even bigger followings, in a bigger arena and we have BOTH of our football clubs behind us too. I can't wait to soak up the atmosphere. I know it will be quite hostile with both sets of fans battling it out vocally, but it should make for a great night.
"I don't take confidence from knowing Lara beat Josh and that I beat Lara. I take confidence in the fact that I know I'm the better fighter. It has taken me so long for me to prove this and I've waited a long time for this fight to happen.
"I've been goading Josh for years, even sending him videos on Twitter when I was in 'No Man's Land' and not getting big fights or really getting a look in. I was in a bad place and didn't have a promoter. Now we've come full circle, where I'm the reigning champion and defending against Josh. It's quite unbelievable."
Josh Warrington:
"No-one ever thought I'd win a Commonwealth Title, let alone be a two-time World Champion,
"So why can't I dream more? Why can't I dream to be a unified champion? To become a two-weight champion or treat my fans to a Las Vegas fight week?
"There's mutual respect, We don't have to be shouting and screaming or chucking tables at each other to have a barnstormer of a fight.
"I went into the Lopez fight after jaw surgery and I was just too worried about it getting whacked.
"I finished well on top but it is one that will haunt me for ever."
Tickets for Wood vs. Warrington are priced £40, £60, £80, £100, £150, £200, £300 and £400 (VIP).
Matchroom Fight Pass members will be able to purchase tickets from 10am on Thursday August 3. Priority ticket info will be emailed directly to eligible members ahead of the on-sale time.
General Sale tickets can be purchased via Stage Front and Utilita Arena Sheffield from 10am on Friday August 4.