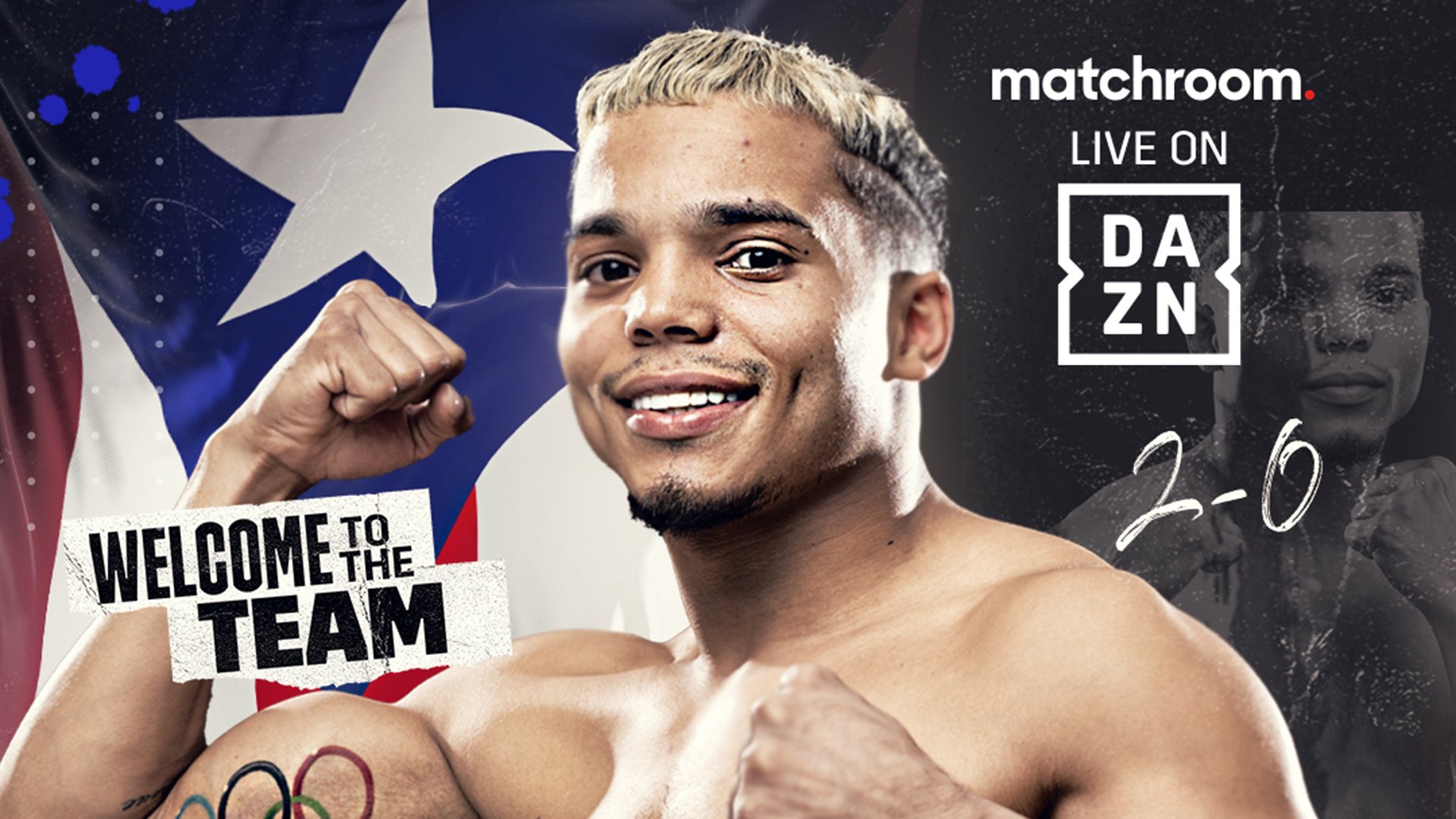 News
YANKIEL RIVERA SIGNS PROMOTIONAL DEAL WITH MATCHROOM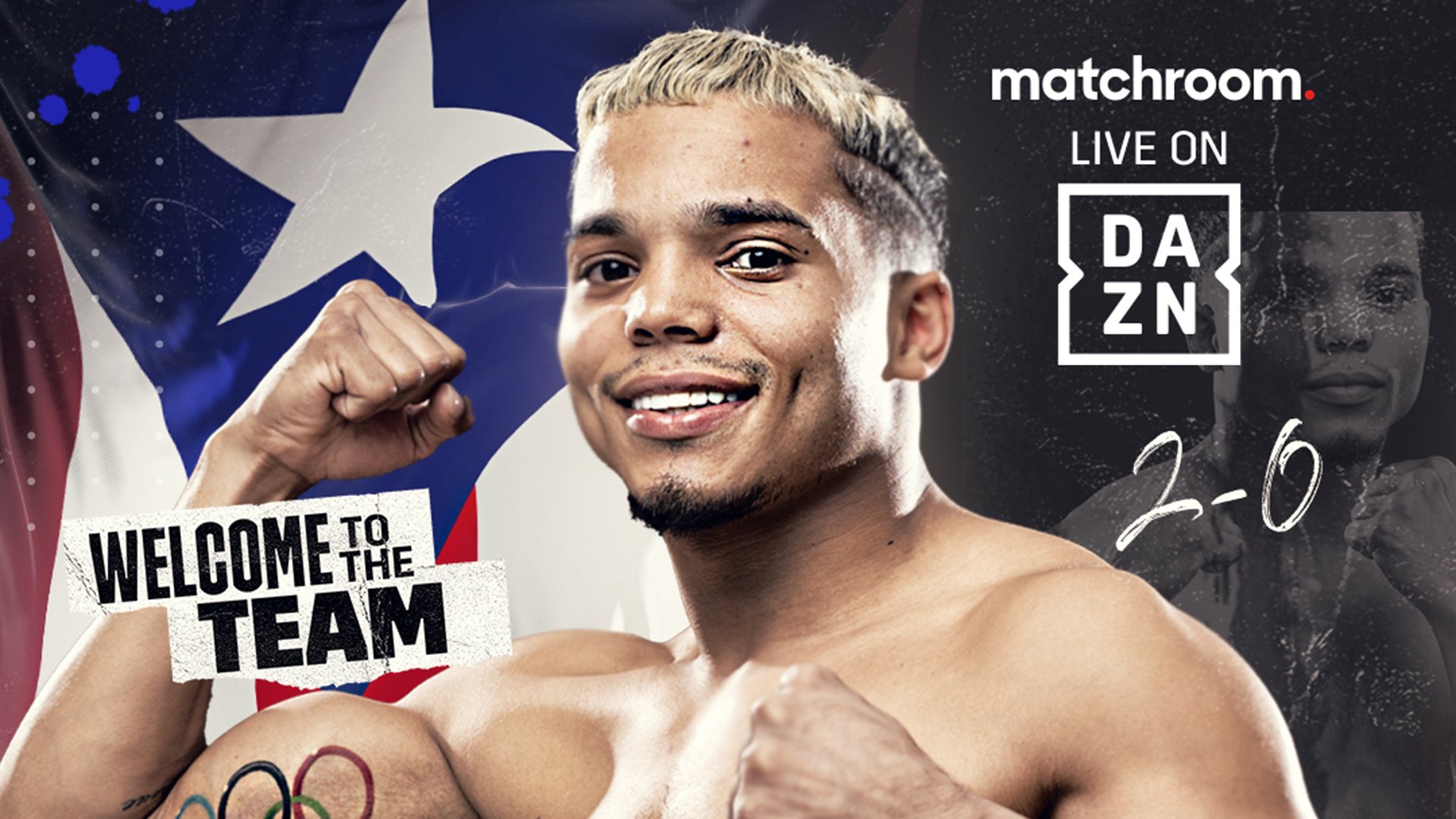 Puerto Rican talent in action in New York on February 4
Puerto Rican amateur star Yankiel Rivera has signed a multi-fight deal with Eddie Hearn and Matchroom – and will fight for the third time in the paid ranks on the undercard of the undisputed double-header with Amanda Serrano vs. Erika Cruz and Alycia Baumgardner vs. Elhem Mekhaled on Saturday February 4 at Hulu Theater at Madison Square Garden in New York, live worldwide on DAZN.
Rivera (2-0, 2 KOs) turned pro in Barranquilla, Colombia in September with a first round KO win and quickly made it two wins inside the distance with a third round KO in Trujillo Alto, Puerto Rico in November.
The 25 year old, campaigning at Flyweight, was Puerto Rico's sole representative at the 2020 Olympics in Tokyo, just one stand out moment from an amateur career that boasted a record of 133-14, winning a host of medals and twice fighting at the World Championships.
'El Doctorcito' will be looking to make it three KOs in three on February 4 when he takes on Fernando Diaz (11-2-1 3 KOs) over eight rounds, and he's looking to impress and show that his plans to move at pace are real.
"Today is a date I will never forget," said Rivera. "Although this is not my ultimate goal in the sport, signing with Matchroom constitutes a landmark in my career and a dream come true. I am humbled and excited to now be part of this great team, and I look forward to a long and fruitful relationship with Matchroom.
"This is the best motivation to keep working hard and keep learning. I am ready to deliver. To my people in New York, I will see you on February 4 and I promise you a great performance."
"I am delighted to welcome Yankiel to the team," said Hearn. "The amateur pedigree speaks for itself, and he's made a great start to life in the pro game. The brilliant Puerto Rico fight fans in New York will already be out in force to see Amanda Serrano, and Yankiel will become an instant hit with them.
"We have been tracking him for some time and he was set to fight in Puerto Rico on February 11, but the chance arose to land him on this blockbuster card in the Big Apple and I am thrilled to be able to give this huge talent such a great platform in his first fight with Matchroom."
Today is a date I will never forget
- Yankiel Rivera
"Yankiel's signing with Matchroom constitutes the culmination of a process that started months ago," said Miguel Ortega, Rivera's Legal Advisor. "It also marks the beginning of something special. We are confident that Yankiel's talent and work ethic will take him all the way to the World championship. We are equally confident that Matchroom is the perfect promoter to take Yankiel to such heights.
"Matchroom has the big names in Yankiel's current and potential divisions, and we are ready for all of them. We thank Mr. Eddie Hearn and Matchroom, as well as Mr. Peter Kahn from FGA, for this great opportunity. We look forward to February 4th at the MSG for a great show!"
"It is very exciting to see Eddie Hearn and Matchroom Boxing getting behind Yankiel Rivera," said Peter Kahn, Rivera's manager and 2022 BWAA Manager of the Year. "Matchroom understands the rich boxing history of Puerto Rico and the importance of having an Olympian like Yankiel on the roster including fighting in one of the most exciting and competitive weight divisions in boxing right now.
"There is no better place for Yankiel to be making his Matchroom debut than Madison Square Garden where the fans will proudly be waiving the Puerto Rican flag."
I am thrilled to give this huge talent such a great platform in his first fight with Matchroom
- Eddie Hearn
Rivera is the final star on display on February 4 and joins Shadasia Green in completing the card. Green (11-0, 10 KOs) will defend her WBC Silver Super-Middleweight title against Elin Cederroos in an eliminator for the WBC World title held by undisputed champion Franchon Crews-Dezurn, who landed the titles at Madison Square Garden in April against former WBA and IBF champion Cederroos (8-1, 4 KOs).
It's another historic night of action from Matchroom in New York, as we follow the epic fight of the year clash between Katie Taylor and Amanda Serrano in April with another double-header of undisputed action.
Serrano moves to Hulu Theater to aim to hold all the marbles for a second time, this time at Featherweight where she faces Mexico's WBA ruler Cruz. Baumgardner recorded the best win of her career to date when she added the IBF, WBO and Ring Magazine belts held by bitter rival Mikaela Mayer in October in London via split decision to her WBC and IBO straps. The vacant WBA belt is the last piece of the puzzle, and French former interim WBC champion Mekhaled will look to spoil the Detroit star's plans in her first fight in the States.
Richardson Hitchins (15-0, 7 KOs) takes on New Jersey's John Bauza (17-0, 7 KOs) for the IBF North American and USWBC 140lb titles, there's two more female title fights on the card, as Australian star Skye Nicolson (5-0) looks to take a big step towards World title action against fellow unbeaten fighter Tania Alvarez (7-0, 1 KO) for the WBC Silver Featherweight title and there's another all-undefeated belt battle as Ramla Ali (7-0 2 KOs) faces title action for the first time in the paid ranks as she meets Avril Mathie (8-0-1, 3 KOs) for the IBF Intercontinental Super-Bantamweight strap, and Aaron Aponte (6-0-1, 2 KOs) and Brooklyn's Harley Mederos (4-0, 3 KOs) complete the action against Joshua David Rivers (8-1 5 KOs) and Julio Madera (4-2, 2 KOs) respectively.